What is a formal obligation letter?
Verpflichtungserklärung in the German language is mentioned with several different words in English.
Formal obligation

Declaration of Commitment

Sponsorship
The formal obligation letter is the obligation letter to cover the living costs of your guest or sponsor. You can get this letter for different purposes.
Visitor

Study

Language course

Marriage

Business trip, etc
When and Where Do We Get the Formal Obligation Letter?
In case your trip is fully sponsored by a third party in Germany (friend, relative or organization), the host will need to send you a formal letter of obligation ("Verpflichtungserklärung"). This is an official document issued by an Aliens Department ("Ausländerbehörde") in Germany, stating that the host in Germany will cover all costs incurred by your visit. Alien Departments are the German public authority responsible for foreigners. They are usually located in every administrative district ("Landkreis"), mostly in the town hall of the district town ("Kreisstadt"). You can use this link to find your responsible foreign office.
A formal obligation seems more, well, formal and binding as it involves going to the aliens authority (Ausländerbehorde) to get one.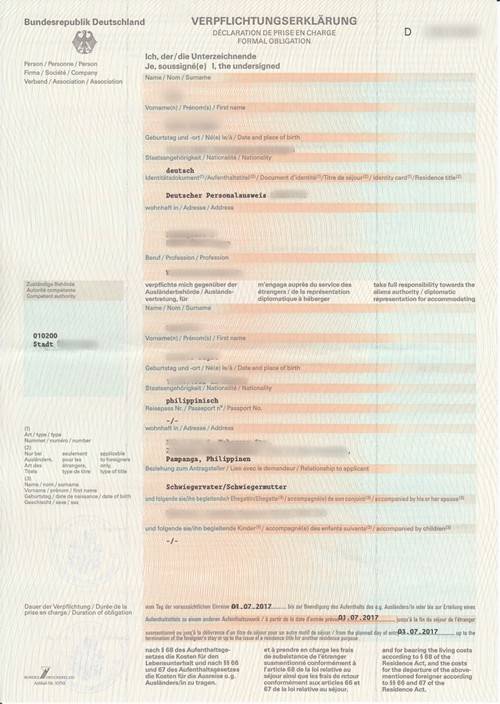 The application for the commitment letter shouldn't be made earlier than 6 months from your travel date. The host has to submit their evidence to undertake the commitment at the "Foreigners Authority" in the city they're registered, residents.
This is done over an appointment to be made through phone, email or in person, through the Information Office of the Foreign Office, also known as the Immigration Office.
Before the host can book an appointment, they must provide answers to the common questions of officials in charge, on these issues:
The number of foreign visitors they will be hosting.

Marital and parental status of the visitor.

Reason for their visit to Germany.

Length of their visit here.

Period of visit.

Hosts legal residential status in Germany.

Other questions as the case may be.
Responsibilities of the Sponsor/s or the Host/s
By signing a formal obligation, the hosts agree to the following responsibilities:
to pay all costs of subsistence for the visitor

to refund any public resources, if the visitor should need social assistance (including accommodation, medical care, nursing care)

to pay any costs for removal procedures (if the visitor should have to be sent back to the country of origin by German authorities)
Qualifying Preconditions to Get a Letter of Commitment
There are a number of conditions to be fulfilled, so your host may qualify to financially support you, as follows:
Your visit plans must be clear. Especially the date of your arrival and departure to/from Germany.
Your host must be financially competent. This takes account of the ability to prove they have enough incomes or saved money to cover your maintenance costs.
Your host must have a registered living address within Germany.
Your host must be a legal resident in Germany. If they're a foreign resident in Germany, they must have a valid residence or settlement permit, or another residence permit. The validity of such a residence permit should be beyond the period of your visit.
Your host must personally undertake the formal obligation. The host should be able to personally sign the obligation at the local "Foreigners Authority". Another person can apply on behalf of the host with a signed Power of Attorney, accompanied by a photocopy of the host's passport or national ID card.
The obligation includes all the costs which are needed to ensure the visitor´s maintenance and accommodation during the stay, such as expenses for food, clothing, accommodation (private or hotel) as well as costs for seeing a doctor, medicine, nursing homes or other medical treatments that are necessary. For this reason, it is recommended to take out a health insurance policy. In the case of sickness, the inviting party also has to pay the costs which are not covered by the insurance company or which exceed the insured amount. The inviting party also has to bear the costs in case of enforced removal. Such removal costs are for instance travel expenses (flight ticket and/or other transportation costs), possibly the costs for escort as well as costs for detention.
What is a Declaration of Commitment for a Short-Term Stay (Schengen-Visa)?
This document confirms that the host have someone covering the costs during your up to 90 days visit in Germany. This applies to visits to meet with relatives or friends in Germany, attending a business meeting or conference or sightseeing in the country.
A declaration for short-term stay is a mandatory document you need to apply for a German short-term stay also known as a "Schengen" visa.
What is a Declaration of Commitment for a Long-Term Stay (National Visa)?
This document shows that the host have someone covering your cost during the visit lasting more than 90 days in Germany. This takes account of visits for attending a language course, to attend a study preparatory course, to apply for studies. It also includes completing a full-time study or PhD program here. It also includes the period of stay (up to 6 months) as a job-seeker as a graduate from a German university here.
The declaration of commitment for long-term stay is mandatory evidence you need to apply for a German long-term stay visa, also known as a "National visa".
This evidence cannot be used for German family reunion visas or similar long-term visas.
You can choose the period for which you want to sponsor. Based on the details mentioned in the application form, the validity of the formal obligation will also be defined for your sponsor.
Note that the formal obligation should not be older than six months when the visa application is submitted (interview). The original document should be sent by the sponsor/host to the visitor as part of the Schengen Visa requirements.
Requirements to Apply for a Formal Obligation Letter (Verpflichtungserklärung) for a German Visa
The host or inviting party should go or call the Ausländerbehorde responsible for their area of residence in Germany and make an appointment.
The documents that your host needs to provide when applying for the declaration of commitment for both Schengen and National German visa, are:
1. Duly filled out Application Form ( "Angaben zur Verpflichtungserklärung" Form)– It is quite simple to fill the application form. It contains only basic information which the host can get from the required documents and also the passport, house contract (only for address) of the person being sponsored.
2. Passport or Residence Identity Card of the Host/ Sponsor
3. Proof that the host is a legal resident in Germany. (This applies if the host is a foreigner in Germany).
Their German residence permit.

Their German settlement permit.

Another German residence permit of your host.
4. Proof that your host lives in (Any of the following):
Confirmation of registration.
Rental contract. It has to be supported by a letter of confirmation by the landlord of the rented place.
5. Proof that your host has sufficient incomes or savings. Click ▼ to read more.
6. Proof of host's divorce from spouse or children (If the host has separated from their spouse and child, for which they have financial responsibility).
Proof of complete and monthly maintenance payments.
Certificate of maintenance advance fund. Issued by the respective youth welfare council.
Proof of paid maintenance obligations.
Court documents showing an officially ended marriage.
NOTE: All documents must be presented both in original and in copy.
How Much Does it Cost to Apply for a Formal Obligation Letter?
The payable in cash fee to obtain a financial obligation letter is €29 and €14, 50 for minors. An additional fee of 0.50€ is charged for each photocopied page of the original documents (If the host doesn't provide their own photocopies).
How Long Does it Take for an Application for Formal Obligation Letter to Process?
The host will not have to wait more than a few minutes until they sign the formal obligation for you if they qualify. It can take another day for the application to process in case of being late for the application meeting.