"Traveling outside the Philippines should not be a problem for any of us or our kabayans." – A statement that is been wished by many.
If you're traveling outside the Philippines for the first time, then we bet you would be excited yet a bit anxious too! There might be a lot of brewing in your head, and we understand that.
Disclaimer
Some information in this guide changes too often. If you continue reading this article, you agree to cross-check information with the concerned authorities. It is always best to follow the health and safety measures implemented in your origin and destination.
As of this writing, Philippine passport holders can travel to thirty-four countries and territories without a visa. However, travelers can't assure entry to a foreign land with only a passport and round-trip airline tickets. Before departure, you must undergo strict immigration procedures.
Traveling abroad requires diligent preparations, especially for leisure purposes. Apart from the research works, it also involves documentation, spending for travel expenses, etc. What if you were offloaded and denied to your destination on the day of your flight? Isn't that upsetting knowing all the preparations you went through?
Offloading, or deferred departure, is what happens to you when an immigration officer (IO) says you cannot go out of the country. While the right to travel is ingrained within the Philippine constitution, there are limits placed on it.
In short, it denies a passenger from leaving a country because of insufficient documentation, inconsistent statements, or even safety threats. Getting offloaded might be the worst nightmare experience for some, but an initiative to combat illegal immigration and human trafficking.
For Your Information
According to the Bureau of Immigration, offloading is not a policy but an outcome of the rules.

There's also the matter of Republic Act (R.A.) 10364, or the Expanded Anti-Trafficking in Persons Act of 2012, and the guidelines for departure formalities from the BI, all in an effort to protect everyone from being victims of human trafficking.
It's a hassle to be offloaded and it can happen to you several times. While the Bureau of Immigration (BI) says there's no such thing as an offloading policy, they did offer suggestions or tips to avoid being offloaded. In this guide, I have narrowed down some tips to avoid getting offloaded at the Philippine Immigration. 
Major Requirements to Present at the Philippine Immigration
There are main three things that you MUST present to the Immigration Officer before you are allowed to board:
1. Valid passport (with at least 6 months validity)- The Immigration Officers are keen on passport appearance. Hence, the passport must be in good condition and free from visible damages. Also, it must have at least six remaining months before expiration and contains at least three blank pages. 
Here's a tip: A travel history establishes a good impression for travelers. To create a good travel record, travel first to visa-free countries like Singapore.

Although not a requirement, always bring your old passport anytime.   
2. Roundtrip ticket- Passengers are required to secure a round-trip flight ticket to ensure that they have the intent to return home.
3. Visa, if applicable- Present the visa type that you have been granted. As much as possible, make sure to also read or do a research about what purpose it serves.
At the very least, you should have these three. Usually, these are all they will ask from you. Aside from these thee major requirements, they may, of course, request for additional or supporting documents to justify the purpose of your travel. 
Secondary/ Supporting Documents to Present at the Phiilippine Immigration
1. Proof of Travel Intent- Travelers must keep copies of the following to prove that the very purpose of travel is solely for tourism:
Proof of confirmed accommodation, either a digital or printed copy of the reservation;

Travel itinerary that includes the attractions to visit, accommodations to stay, and transports to use;

Digital or printed copies of booked tours like attraction passes and vouchers.
At this part, it's good practice to include a cover letter along with this itinerary document so that you can properly explain the purpose of your trip. We can help you plan your trip by availing our itinerary service.
2. Proof of Financial Capacity-  Unless a sponsored trip, travelers must prove that they afford the entire vacation. Apart from cash, proofs of financial capacity are in the forms of:
Long-standing bank accounts stated on the bank certificates, bank statements, and bankbooks;

Payment cards such as debit, credit, and prepaid cards;

Recent six months of credit card statement. 
Remember: Financial capability is not a requirement unless the person traveling appears to have a different reason for traveling, from what he has declared before an immigration official.
You just need to prove it to immigration, that you're coming back to the Philippines soon, or at least you have the financial means to support this trip.
Always have these documents carried with you:
Company ID

A copy of the latest income tax return

Certificate of Employment (the best thing that indicates your salary and for how long you've been attached to the company)
This clearly means you have something to return for, and that's about it. You're sorted!
A copy of your income tax return for the past year. If you pay taxes for yourself then you should have this. If the client paid for you, they usually give you a copy of it, make sure you have it.
A document like the Certificate of Employment, where the client(s) can certify that you're doing some kind of business with them. The address and contact number of the client must be specified. Best of this can be if it includes the salary and how long you've been working with them.
If you're the sole proprietor of a company, make sure you have the copy of your business registration certificate.
For fresh grads who are still unemployed, the best course of action is to find a sponsor who is a a family member. Prepare the following documents:

Authenticated affidavit of support indicating the relationship within the 4th civil degree of consanguinity or affinity, together with the supporting documents.

An affidavit of undertaking/ guaranty

Tip: In addition to the documents above, the traveler must also provide proof that the sponsor can support the trip. This may be the sponsor's ITR or bank documents.

You're most likely going to be asked by the Immigration Officer why you're traveling. If it is a graduation treat, you can say so. If you have a document to prove you just graduated, that can help too.

However, note that having the above papers does not guarantee anything but it can help.
Travelers who can't financially support the trip themselves must have a sponsor, who is ideally an immediate relative. They should have the following documents handy:

Authenticated affidavit of support indicating the relationship within the 4th civil degree of consanguinity or affinity, together with the supporting documents.

An affidavit of undertaking/ guaranty

TIP: in addition to the documents above, the traveler must also provide proof that the sponsor can support the trip. This may be the sponsor's Certificate of Employment, ITR, or bank documents.

However, note that having the above papers does not guarantee getting through, but it will definitely increase your chances.
3. Proof of Ties- Livelihood, assets, family, and community ties are strong proofs of connection to the home country. Keeping records of this evidence will perhaps convince the Immigration Officer that you have the intent to return home.
Proof of Income. Company ID, Certificate of Employment, and recent Income Tax Return Certificate are the primary income proofs for employed individuals. They may also keep recent payslips and approved leave of absence as supporting evidence. On the other hand, self-employed individuals must keep copies of their business permits and registrations. Freelancers must retain copies of their project contracts or online payment receipts.
Assets Proof. Certificate of Real Estate and stock certificates are the documents that fall under the proof of assets. 
Proof of Family Ties. The family is probably the strongest string in the home country. It includes marriage and birth certificates of spouse and children and photos showing closeness.
Proof of Community Ties. If an affiliate of any civic organization, you must keep an ID or certificates proving active membership. Also, students must keep their school IDs.
4. Proofs of Sponsorship- Benefactors like unemployed individuals must prepare the following documents upon request:
Proof of relationship to sponsor such as marriage contract, birth certificates, and other written documents;
Invitation letter, with the sponsor's contact details, if the sponsor is not a relative;
Notarized Affidavit of Support and Guarantee and Undertaking;
Proof of sponsor's financial capacity like bank certificates, employment certificates, Income Tax Certificates, or permits;
Emails and chats correspondence
5. Guidance and Counseling Certificate from the Commission on Filipinos Overseas (a.k.a CFO Certificate)- All Filipinos traveling overseas as fiancées, spouses, or relatives of a foreign citizen must secure a Guidance and Counseling Certificate. Before receiving a certificate, applicants must complete the guidance and counseling session at Commission on Filipinos Overseas offices.
6. DSWD Travel Clearance- The DSWD Travel Clearance is a document issued to Filipino minors traveling alone or with a non-relative adult. You may visit the DSWD site https://www.dswd.gov.ph for more details. 
7. Travel Authority for Gov't Employees- Government personnel is required to obtain a travel authorization before leaving the country. Aside from the request form, an applicant must attach accomplished leave forms and other documents. You'll find more info in the table below.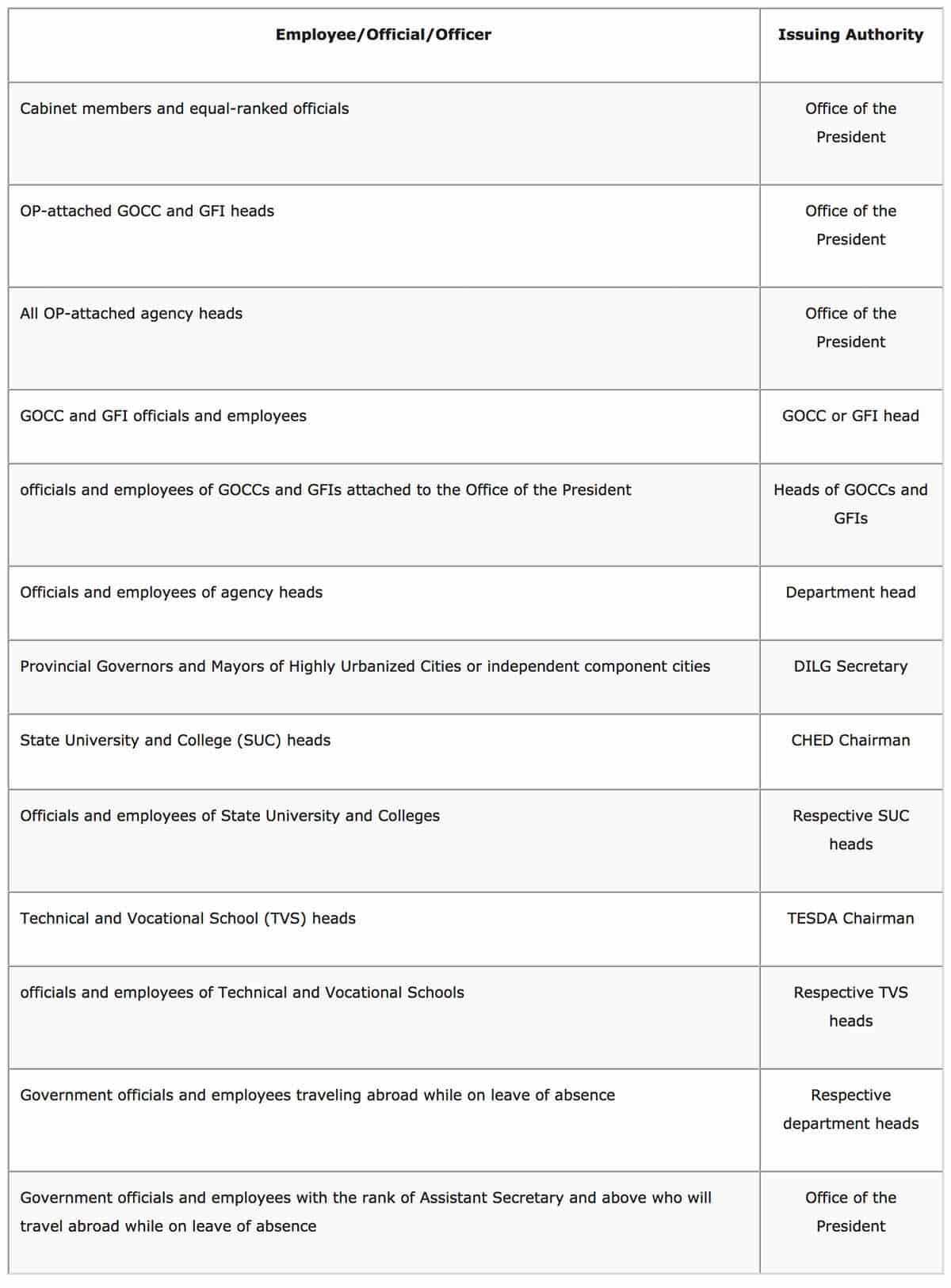 Usual Questions That the Immigration Officers Ask
Solo traveling especially as a female is a red flag due to cases of human trafficking. So make sure you are clear with your itinerary and purpose. Most importantly, when they interogate you, answer honestly and show that you are confident to travel alone abroad.
Here are some common questions that they usually ask:
PRIMARY QUESTIONS:
Where are you going?
When will you return to the Philippines?
What will you do there?
What is your occupation here in the Philippines?
When will you return? Kelan ka babalik?***
May I see your return ticket?
Do you have travel insurance? Me travel insurance ka?***
If traveling alone… Why are you traveling alone? 
If you have a renewed passport… May I see your old passport?
In extreme cases, they can ask for your proof of subsistence or how you can afford traveling. You can show your debit card or credit card in this case.
The place of your residence at your destination country is a concern for the immigration officials. They may always ask you to present your letter of invitation or the proof of your hotel reservation vouchers. In either of the cases, always have your documents ready.
In cases where you would say you have relatives abroad, they may ask you to present your proof of relationship to ensure they're your relatives. And moreover, you would be required to let the officials know if your relative is employed at the country of your destination.
SECONDARY QUESTIONS: 
When the immigration officials deem necessary,
The one thing that the immigration officials will always ask you regardless of anything is if you have enough funds to travel. This is a concern for every traveler.
But, there's a twist to this;
If you're a first time tourist to a not so popular destination, then you may be questioned by the officials.
Travelers or tourists with no steady incomes in the Philippines are also under their radars.
Remember: Financial capability is not a requirement unless the person traveling appears to have a different reason for traveling, from what he has declared before an immigration official.
Specific Guidelines based on the Philippine Immigration Law
The following guidelines provide definite parameters in the strict enforcement of immigration departure
formalities intended for the prevention of trafficking in persons, illegal
recruitment, and other related offenses. These laws are hereby promulgated for strict
implementation/compliance by all concerned.
Road to Stamp of Approval: Key Points or Final Note
So, I have narrowed this down to those going abroad as tourists, so here are things you should remember to avoid being offloaded:
1. ARRIVE EARLY AT THE AIRPORT- this is the VERY BASIC among the list. Passengers must be at the airport 3-4 hours before departure. Apart from airport check-in, passengers will also allow time for interviews and secondary inspection if necessary.
2. DRESS PROPERLY- When traveling for tourism, dress and act like a tourist. Do observe proper grooming and wear clothing apt to the climate and customs of the destination. Profiling is part of the standard procedure for immigration officers across the world. This doesn't mean coming into the airport wearing a suit and tie; just know that if you're visiting a country with a strict dress code or a season different from what the Philippines is currently experiencing, you'll need to bring the right clothes for the trip.
3. PROVIDE SUFFICIENT DOCUMENTATION and BE OVERPREPARED- Technically, all the IO needs to let you get out of the country are the following:
A passport valid for at least 6 months from the date of your departure

A return ticket

A visa (when applicable)
These will let almost everyone off the hook with IOs. Questions will be asked by the IO based on your case – there is no flow chart or a definite set of questions IOs will ask travelers once they step up to the immigration area.
4. ACCOMPLISH DEPARTURE CARDS- A Departure or Embarkation Card is a document that serves as identification of the departing passenger. It contains information like name, citizenship, passport and flight number, travel purpose, etc. 
The Embarkation Card is free and available at the airport. Passenger details must be penned legibly on the card using black ink. 
TIP: Bring with you a pen to avoid inconvenience.
5. PREPARE FOR INTERVIEW- The hardest part of the process comes last, the interview. Overseas travelers must undergo an immigration interview concerning the integrity of the passenger's travel intent. Be firm and convey coherent statements to avoid getting offloaded at the Philippine Immigration.
6. BE HONEST, CONSISTENT, and DIRECT WITH YOUR ANSWERS- Tell the truth and be consistent when IOs ask you questions about yourself or your trip. If you're found to be lying, or at the very least concealing the real purpose of your trip, you'll be offloaded.
Immigration Officers know how to spot liars. They have interviewed thousands of passengers and are trained to detect if you're trying to hide something.
If possible, state everything will all honesty. If you are not doing anything illegal then I don't see why you have to lie. And people who lie tend to be inconsistent as well and that's a red flag for the officers.
Answer directly, 'wag paligoy ligoy. t's better to keep your answer short because they might ask more follow up questions to unnecessary details you provide.
This article, How to Avoid Getting Offloaded at the Philippine Immigration, serves only as your guide. Be firm to your travel intent and convince the Immigration Officer that you're returning home. Good luck!