To enjoy hassle-free travel, reading and understanding your Schengen Visa Sticker correctly is important.  If you have been granted a Schengen visa, several pieces of important information are on the visa sticker. The visa sticker information is provided in English, French, and German. This article outlines the ins and outs of the Schengen Visa Sticker and helps you understand its content in detail.
What Is a Schengen Visa Sticker?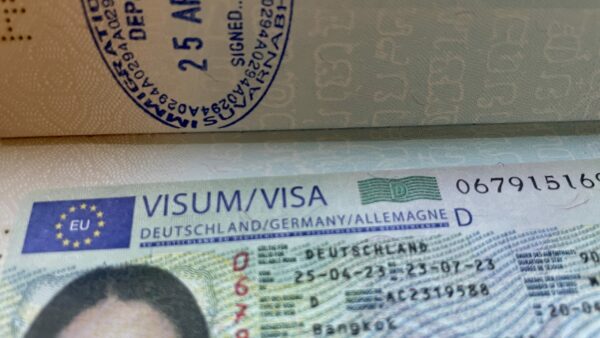 The Schengen Visa Sticker is a small, rectangular sticker placed in the traveler's passport, indicating that they have been granted permission to enter and travel within the Schengen Area. It contains personal information such as the traveler's name, date of birth, passport number, the dates of visa validity, and the number of times you are allowed to cross its borders to ensure compliance with immigration laws.
The visa sticker must be presented at the Schengen port of entry in the first Member State you enter. Applicants must have at least one blank page in their passports when applying for a Schengen Visa, so the visa sticker can be attached to your passport/travel document. 
You will receive your visa sticker when you collect your passport/travel document from the embassy, consulate, or VAC (visa application center) where you applied for your Schengen visa.
Each Schengen Visa has a unique identification number assigned to it. This number is usually found on the visa sticker that is affixed to the passport. The Schengen Visa number is a combination of letters and numbers and can be used to identify the visa holder and their travel information. It is important to keep this number safe and secure as it is required for any future travel to the Schengen Area. If you have any questions regarding your Schengen Visa number, it is recommended that you contact the embassy or consulate that issued the visa.
Countries that the Schengen Visa Holder is Allowed to Visit
A visa sticker always contains information on the countries its holder is permitted to visit.
The VALID FOR, «VALABLE PUR,» and «GULTIG FUR» section of the visa sticker lists the countries or areas you can visit. These labels are set before the name of the territory you are permitted to enter with the visa you have obtained.
Below are some examples of what may appear on the "Valid For" section on your visa sticker:
If it says "ETATS SCHENGEN" or "SCHENGEN STATES", your visa is valid in all countries part of the Schengen Zone. If you have a uniform Schengen visa, that will be written on your visa sticker.


 




If you have a 

Limited Territorial Visa (LTV)

, your visa permits you to enter only a specific country or part of the Schengen Zone. In this case, your visa sticker will display abbreviated names of the state or states which you are allowed to enter. For example, suppose your Schengen visa sticker lists the acronyms of the terms of these countries, 'F, FIN, GR, H, I, IS, L, LT.' In that case, you can only enter France, Finland, Greece, Hungary, Italy, Iceland, Luxembourg, and Lithuania.


If your Schengen visa sticker says 'ETATS SCHENGEN (-NL), you can enter all Schengen countries except for, e.g., The Netherlands. The minus is placed before the Schengen Member State

you cannot enter

.
Abbreviations for the Schengen States
As an additional guide, below is a list of abbreviations for each Schengen State:
A – Austria
B – Belgium
CH – Switzerland
CZE – Czech Republic
D – Germany
DK – Denmark
E – Spain
EST – Estonia
F – France
FIN – Finland
GR – Greece
H – Hungary
I – Italy
IS – Iceland
L – Luxembourg
LT – Lithuania
LVA – Latvia
M – Malta
N – Norway
NL – Netherlands
P – Portugal
PL – Poland
S – Sweden
SK – Slovakia
SVN – Slovenia
If there are listed just some of the acronyms of the names of these countries i.e. «LVA, M, N, NL, P, PL» then this means you are permitted to enter only Latvia, Malta, Norway, Netherlands, Portugal and Poland.
Whereas, if the visa contains the following label «ETATS SCHENGEN (-country acronym)» – then this means the visa is valid for all Schengen countries, expect for that country i.e. expect Sweden if the label is «ETATS SCHENGEN (-S)». You will be unable to enter depending on the country code after the minus sign.
Label «name of country» – means that the visa is valid only for the respective territory, and its holder is not permitted to move to the other countries of the Schengen Area if he / she does not have another visa.
Schengen Visa Sticker Validity
Next to the labels  «FROM», «DU» and «VOM» is given the first day you are permitted to enter the Schengen Area, whereas near the labels "UNTIL", "AU", and "BIS" is given the last day when you will have to leave the Schengen or the countries in which you are permitted to remain during your stay.
Common Reasons for Schengen Visa Rejection
Here are the common reasons a Schengen Visa application gets denied:
No clear travel purpose—a detailed cover letter is a must!
Lack of strong ties—reevaluate your application and prove why you must return to your home country!
Insufficient travel insurance coverage—make sure you get the right policy!
No proof of financial means—convince them that you can afford your trip! Provide bank or credit card statements, VUL, investment portfolio, etc.
Passport does not have 2 free pages—where will they attach the visa if your passport pages are already full? You should get a new passport before applying for a visa if there are no more available pages on your old one!
No proof of accommodation—you need to prove them that you have a place to stay in the Schengen Area.
So, just a recap and a reminder, please don't forget these TIPS: 
If you ever need help, you can avail my visa application bundle, and I will be glad to help you through the process!
Let Us Be Your Partner in Your Schengen Visa Journey
Applying for a Schengen Visa can be overwhelming, with all the paperwork involved and confusing information from different sources. We understand that—we've been there and have done that!
But through the years, we gained experience and knowledge on the ins and outs of the Schengen Visa application. We've helped countless satisfied clients; we would like to invite you to be one of them!
With our Schengen Visa services personalized to your unique needs and circumstances, we will make your visa application less stressful and laborious, and more promising. Contact us to schedule a consultation or for other inquiries.