PROOF OF STRONG TIES IN THE PHILIPPINES FOR YOUR SCHENGEN VISA APPLICATION
Hello, future Schengen explorer! If you're gearing up to embark on a European adventure and need that coveted Schengen visa, one crucial aspect to focus on is demonstrating your strong ties to the Philippines. Consulates want assurance that you have compelling reasons to return after your European sojourn. Let's delve into a comprehensive guide on what constitutes strong ties and how to present a compelling case in your visa application.
Embarking on international journeys often requires obtaining visas, and for Filipinos, demonstrating deep ties or rootedness in the Philippines is crucial for a successful application. Whether for a Schengen visa or any other visa category, here's a detailed guide with practical tips on proving your strong connections to your home country.
Understanding Strong Ties
When applying for a Schengen visa, officials want to see evidence that you have significant connections to your home country, indicating your intention to return. Strong ties are the anchors that ensure you won't overstay your visa. These ties can be social, economic, or familial in nature.
We face yet another inquiry in response to the question: How can you demonstrate to the Consul that you have no intention of engaging in illegal employment, violating local laws, or straining their resources? This is the scenario they aim to prevent, leading to the visa requirement and the intricate visa application process, particularly challenging for those hailing from developing nations. However, fear not, as I'm here to provide the answers to these concerns 🙂
Some Evidences of Your Rootedness in the Philippines
Certainly, proving your rootedness in the Philippines is vital for various applications, including visa applications.
You need to convince them that you will return to the Philippines. Insufficient evidence of deep-rootedness to your home country is also one of the chief reasons for visa denial. Here are some compelling pieces of evidence that can support your case:
1. Employment Stability: original letter from employer confirming the position in the company, date of employment, salary for the last 6 months, and period of holidays granted (certificate of leave of absence). The letter must include the name and position of the person who signed the certificate, registration, and company contact details.
2. For Business Owners or Self-Employed: confirmation of business registration, license, income tax return, business financial statement
3. Educational and Professional Credentials: proof of enrolment, a certificate from the school with confirmation of leave of absence, and a valid student's ID card. You may also be requested to submit a student's record book:
     > Recent certificate of enrollment from the school
     > Letter authorizing the student's absence from school
For professional credentials, include your professional license or certifications.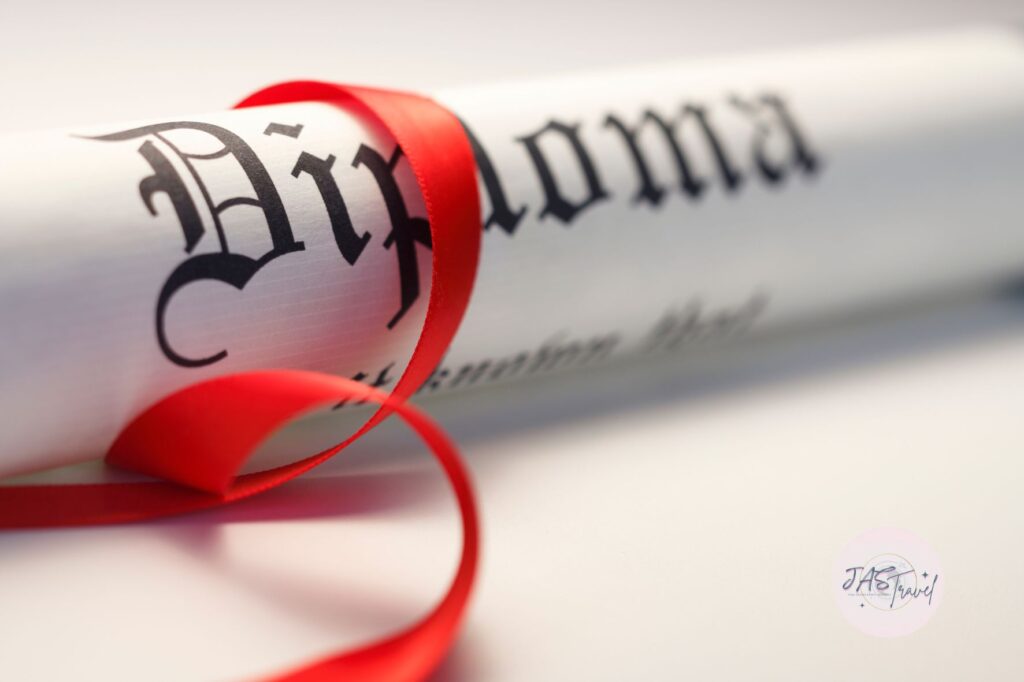 4. For Pensioners: pension certificate indicating the amount of pension
5. For Solo Parents: 
     › A copy of your birth certificate- PSA Authenticated
     › A copy of your child/children's birth certificate- PSA Authenticated
     › Solo parent ID
     › Barangay Certification as Solo parent
     › Notarized Affidavit of Solo Parent with Undertaking
     › Money remittances to support your dependents
6. For Minors: 
     › Joint affidavit of both parents or legal guardians granting consent
     › Photocopies of the passports of both parents or legal guardians
     › Solo parent ID
     › Birth certificate of the minor. Must be recent, original, and issued by PSA
     › DSWD Clearance, if the minor is not traveling with either parent or legal guardian

7. Community Involvement:  
     › Certificates or letters of participation in community events or organizations
     › Evidence of any contributions to local development.
8. For those who are supporting or watching over the health/well-being of the family:
     › A copy of my parent's birth certificates- PSA Authenticated
    › If parents are already Senior Citizens: a copy of their Senior Citizen ID and Barangay Certification as Senior Citizens
     › If parents have sickness/ illness: Medical history of parents (diabetes, hypertension, etc.) 
9. Family Ties:
     › Birth or marriage certificates for close family members.
     › Family photos with accompanying explanations
     › Previous passport stamps and visas.
     › Entry/exit stamps indicating compliance with visa conditions.
10. Cover Letter or Letter of Explanation: A well-crafted letter explaining the purpose of your trip, your ties to the Philippines, and your commitment to returning.  The cover letter details the purpose of your journey and your complete itinerary indicating all the places you plan to visit there. The cover letter is crucial to the success of your application; a well-thought-out and well-written cover letter gets you a higher chance of visa approval. Let us take care of your cover letter (and others such as sponsorship, invitation, and appeal); get our letter service here!
11. Philanthropy or Volunteer Work: Prove that you are doing something "worthwhile" in your country. By "worthwhile," I mean that you are doing something in your country that keeps you so busy that you don't even intend to find a job in your country illegally. This could include studying, volunteering at a non-profit organization, or training under a company. You can also include:     
     › Certificates or letters of recognition for charitable or volunteer activities.
     › Any involvement in community service.
12. Cultural or Religious Affiliations:
     › Certificates or letters from cultural or religious organizations.
     › Documentation of your active participation in cultural or religious events.
13. Proof of Ownership of Properties Under Your Name: This can include Land Title, Car Registration, and/or Stock Certificate. If you do not have any, relax. This isn't mandatory! 🙂 This only proves how 'financially capable' you are since you were able to purchase these valuable things.
If you're young (early 20s), then it's not expected that you already own properties; you can show proof of an apartment rental agreement instead. 
When proving rootedness for visa applications, authenticity is key. Provide comprehensive documentation, and ensure that your application tells a cohesive and convincing story of your ties to the Philippines. Remember, the goal is to satisfy visa requirements and genuinely reflect the essence of your connection to your homeland. Including various documents covering different aspects of your life—professional, financial, familial, and community—strengthens your case and assures officials of your commitment to your home country.
May your visa applications be smooth, and your journeys be filled with enriching experiences! 🇵🇭✈️
Common Reasons for Schengen Visa Rejection
Here are the common reasons a Schengen Visa application gets denied:
No clear travel purpose—a detailed cover letter is a must!
Lack of strong ties—reevaluate your application and prove why you must return to your home country!
Insufficient travel insurance coverage—make sure you get the right policy!
No proof of financial means—convince them that you can afford your trip! Provide bank or credit card statements, VUL, investment portfolio, etc.
Passport does not have 2 free pages—where will they attach the visa if your passport pages are already full? You should get a new passport before applying for a visa if there are no more available pages on your old one!
No proof of accommodation—you need to prove them that you have a place to stay in the Schengen Area.
So, just a recap and a reminder, please don't forget these TIPS: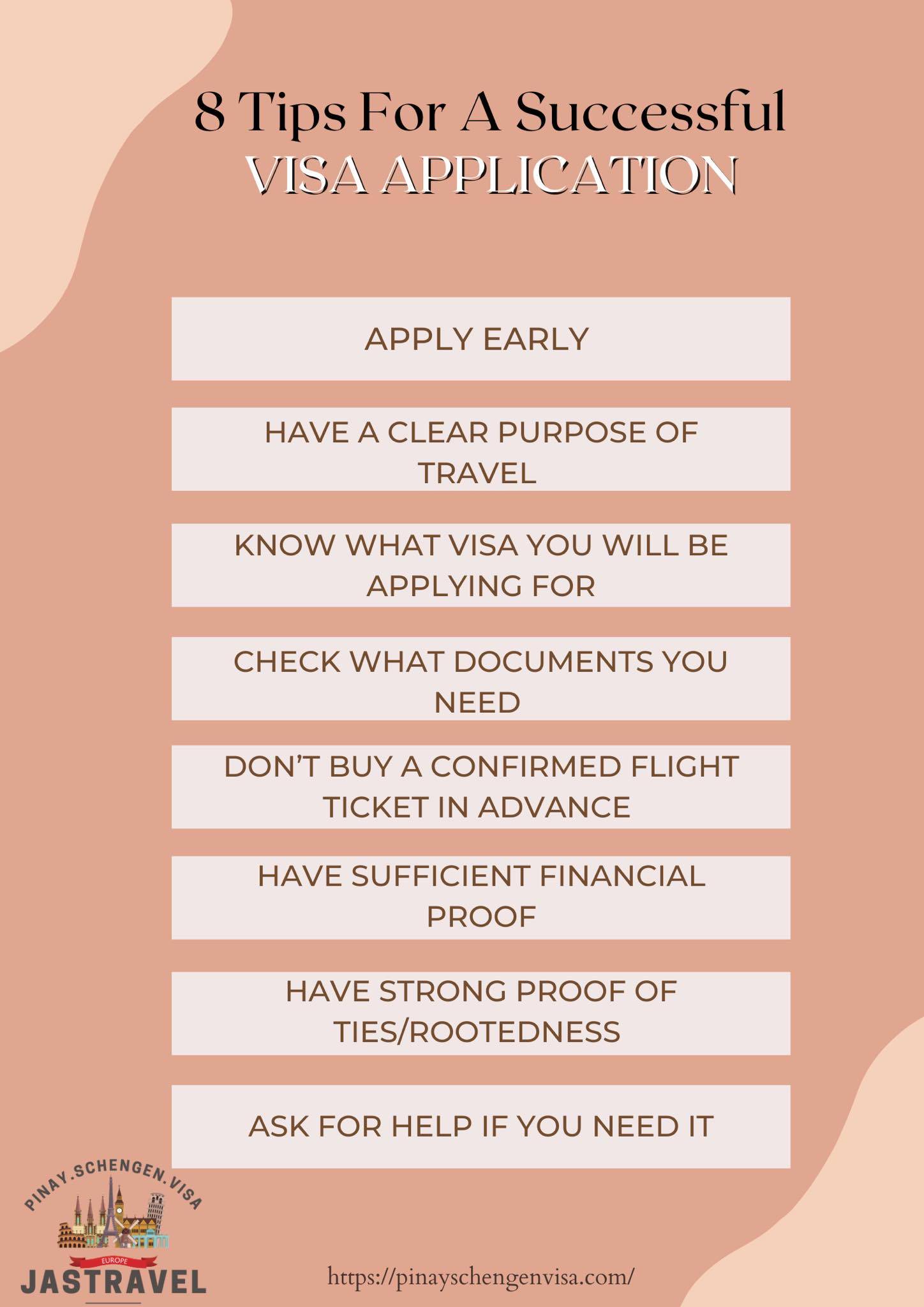 If you ever need help, you can avail my visa application bundle, and I will be glad to help you through the process!
Let Us Be Your Partner in Your Schengen Visa Journey
Applying for a Schengen Visa can be overwhelming, with all the paperwork involved and confusing information from different sources. We understand that—we've been there and have done that!
But through the years, we gained experience and knowledge on the ins and outs of the Schengen Visa application. We've helped countless satisfied clients; we would like to invite you to be one of them!
With our Schengen Visa services personalized to your unique needs and circumstances, we will make your visa application less stressful and laborious, and more promising. Contact us to schedule a consultation or for other inquiries.