FRANCE SHORT-TERM SCHENGEN VISA FOR PHILIPPINE PASSPORT HOLDERS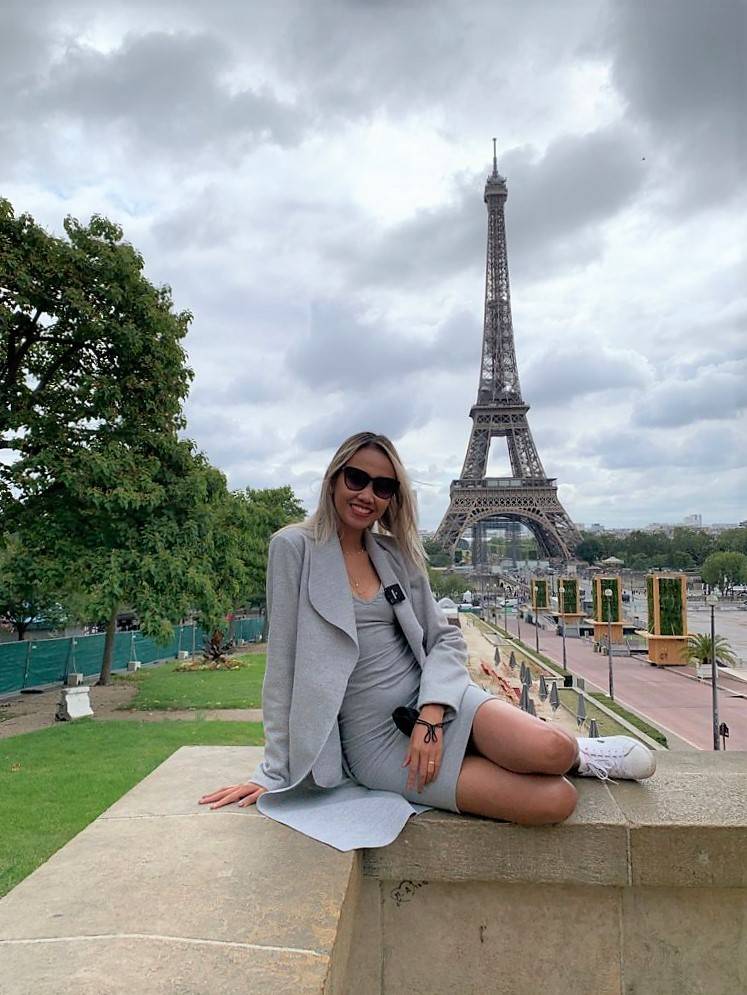 If someone thinks of France, it's quite common to have Paris, "The City of Love," as their top-of-mind destination — most especially if they are first-time travelers to the country. Paris is one of the most stunning cities in the world with world-class attractions like the Louvre and the Eiffel Tower. At least once in our lives, we all dreamt of visiting its iconic tourist attractions. We want to see for ourselves the beguiling smile of The Mona Lisa nestled in one of the corners of The Louvre, or perhaps, we want to see someone dear to us who lives in this beautiful country be it a lover, a family, or a friend.
Our reasons may be different but as Filipinos, we have one thing in common: We all need to apply for a Schengen Visa and here's a detailed article on how you can apply for one in the Embassy of France in the Philippines.
In this article, I will guide you on how to apply for a Schengen France Short-term Visa with your Philippine Passport.
Who is eligible to apply for a France short-term visa?
Apply only at the France Embassy only if ANY of these is true:
You're going to France only and will not visit any other country.

You will visit multiple Schengen countries, but you will stay the longest in France.

You will visit multiple Schengen countries, but the main purpose of your journey is in France. (Example: you will attend a wedding or a conference in France, but you plan on going out to other Schengen countries while you're there.)

You will stay in multiple Schengen countries for the same number of days, but France is your first point of entry, meaning, France will be your first entry. 
Note: You can't apply at the French Embassy when the only country you're visiting is Norway. You can't apply at the French Embassy if you'll be staying in Norway for one week and in French for two days.
Important Documents to Prepare
1. A duly filled out application form through this website which must be dated and signed. This platform basically determines the requirements you need to fulfill. After which, it will proceed to ask for your information in order to automatically generate the France visa application form.
To do this, simply follow the instructions in the section below:
2. Two current biometrical passport photos – have your passport photo taken. The embassy is very strict on their photo specifications.
Taken with nothing covering the face, without sunglasses or contact lenses, or a head covering unless worn for religious or medical reasons.

The subject should have their mouth closed (no grinning, frowning or raised eyebrows). 
After which, paste your photo on each of the electronic visa form that you completed online (1 original and 1 photocopy of the form).
3.  Original Passport and a Photocopy of it– The embassy requires that your passport is valid for at least another three months on the date the visa application is submitted. It also must have two empty pages for them to stamp your passport. If you have renewed your passport, bring your old one/s with you. These are needed especially if you have previous overseas trips.
4. Your travel plan (travel destination, route, proof of accommodation and itinerary) with dates and flight numbers specifying entry and exit from France. With the necessary documents needed, this should clearly state the purpose of your travel. Normally, this would just include your complete flight itinerary. Remember that you do not need to book/pay for the ticket yet. Reservation ONLY. Do not pay for your flight reservations until your visa is approved. You just need to show that a flight itinerary from the Philippines to your destination exists. You can avail of my services for a dummy ticket so that I can assist you with your flight reservations. Get a flight reservation here.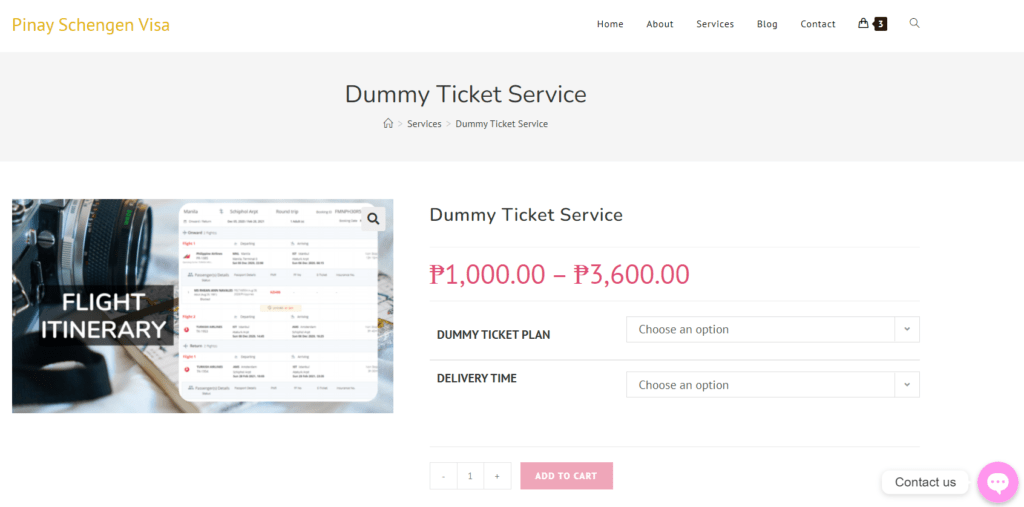 In addition, if you are a first-timer traveler to France, I advise that you also prepare a cover letter stating the purpose of your trip to France and willingness to return to the Philippines before the expiration of your visa: What exactly will be an incentive for you to return to the Philippines, and can you submit proofs for these circumstances?
Support your cover letter with an attached detailed itinerary (e.g., the exact destinations/sights that you will be visiting) just in case the embassy asks for it. 
5. Travel Insurance – the coverage must be applied during the entire duration of the trip in France and must be valid for all Schengen countries. Coverage sum must be AT LEAST EUR 30,000 (Php 2.5 million or USD 50,000). I highly recommend Pioneer Insurance which you can avail yourself through me. Feel free to directly inquire through JASTravel on Facebook and I would be very glad to assist you. 
For the list of recommended Schengen insurance companies in the Philippines, you can also check it through https://www.vfsglobal.com/France/Philippines/pdf/New-Insurence-Visit-Family.pdf .  And it is also great to know that Pioneer Insurance is one them!
6. Proof of vaccination– Vaccines that are recognized are only those that are registered by the European Medicines Agency (EMA): Pfizer, Moderna, AstraZeneca, Johnson & Johnson.
7. Proof of Accommodation –confirmation of hotel booking, hotel voucher, or letter of promised accommodation by the host. You would need to show hotel bookings, but this does not mean that you must pay for your hotel reservations this early. You can check via Booking.com, Airbnb, Agoda, or simply an apartment which does not require a pre-payment. This means, pwede ka mag book ng accommodation online without having to pay it agad and you can even cancel the booking a day before your arrival with NO cancellation charges at all. So yes, you can make reservations without any payment, you can change the reservation anytime, AND you can cancel them at no cost as well if in case your visa is not approved. If you will be staying in other countries aside from France during your stay, you must also provide hotel booking confirmation for those.
'Proof of Accommodation' (Cerfa form/Attestation d'accueil)

which is a French document that your host must get from their local town hall in France. You must arrange this in advance because the embassy wants the ORIGINAL document for this, given that it must be stamped by the consulate and later presented upon your entry in France.

Informal Invitation letter

Scanned copy of

Passport with travel stamps 

Scanned copy of

Resident ID

or any other valid IDs

Proof of Accommodation

(apartment/flat or house rental, house ownership) – this is optional

Proof of Relationship

– like pictures together, the screenshot of chat conversations and call logs and for the family -Birth certificate or marriage Cert from PSA
8. Proof of Funds or Financial Capacity – these documents are necessary to prove that you can either support yourself or your sponsor can cover your expenses financially during the whole duration of your travel. 
If applying as a Tourist or as a Visitor 

without a Sponsor

 – this means that you will cover all your expenses during the entire duration of your travel.


Bank statements

 –

must show records of the past six months. A bank statement shows your transactions in your account at a specific period. It will show debits (withdrawals, payments, taxes, service fees) and credits (deposits, interest earned.) Bank Statements can also be seen online especially if you have a registered account. There is no signature for the manager or a bank officer.

Bank Certificate

 – it is 

a confirmation by the branch manager

 or a bank officer that you have an existing account in their bank. It shows the account number, the type, and other details such as the opening date of your account, your account balance as of the date of request, and your average daily balance. 

Other proof of income (supporting documents)

 –

although it is not really required, you can submit invoices and pay slip equivalent to prove that you earn enough to support this trip financially.
If applying as a Tourist or as a Visitor with a Sponsor

 – this means that 

your host and/or sponsor (family, friend, partner, or fiancé) pledges to take full responsibility to cover all the expenses

 

that you will incur during the whole duration of your travel.
If you maintain a bank account for a long time, better maintain it. Kahit na may sponsor ka, of course, plus points pa din sa visa application mo if idadagdag mo din bank statements mo, payslips from our employer, and other proof na financially capable ka din and most importantly, it proves deep rootedness as well.
Sponsorship Letter which should state the fact that he/ she is inviting you to come over, your relationship with each other, and that he/ she is willing to sponsor you during your trip. Of course, it needs to have documentary proof. 
Original Affidavit of Support, legalized by the French municipality where the sponsor is registered 
The sponsor's copies of: passport including the biodata page and travel history (passport stamps) and Belgian ID Card or Resident ID card
Recent proof of income of the sponsor (3 last months' salary slips, etc.)
Proof of relationship with the sponsor (pictures together, Birth or Marriage certificate, and screenshot of chat conversations)
For Minors – Proof of economic means of parents or legal guardian/s
To know more about additional requirements that you would need from your sponsor, check out my YouTube video: https://youtu.be/SEad8VHVkLk
9. Proof of Civil Status – Birth Certificate, Marriage Certificate, Death Certificate of the spouse, etc. These documents must be issued on security paper (SECPA) by the Philippine Statistics Authority, see http://www.psaserbilis.com.ph. 
Note: The birth certificate does not need to be authenticated by the Philippine Department of Foreign Affairs.
10. Evidence of your rootedness in the Philippines – Evidence of deep-rootedness a.k.a. strong family and social ties to your home country, is one of the most critical requirements when applying for a Schengen Visa. It is what the Consul will look for in your visa application. So how do you prove that you are firmly established in the Philippines and that you will go back to your home country?
For Employees: 

Employment or Work contract and bank account statements or payslips showing the transfer of your last six-monthly salaries 

Certificate of Employment which should include the employer's full name, complete address, telephone number with area code, details regarding the position, income, and employment duration

Approved letter of approved leave signed by your employer (Leave of Absence letter)

Optional: Signed No Objection Certificate which states that your employer has no objection for you to travel to France and that they have approved your leave request

Most recent Income Tax Return 2316 (ITR) 

Optional Supporting Documents:


› Government Mandated Contributions – SSS, Pag-ibig, Philhealth Contributions




› If with existing loan – SSS Loan or Pag-ibig Salary loan

For Self-Employed: 

DTI Business Name Registration Certificate

Barangay Business Clearance

Mayor's Business Permit from your Municipality where the business address has been registered

Business activity of your company for the last 6 months – invoices and bank transactions

Most recent Income Tax Return 2316 (ITR)

For Retirees: 

Pension statement for the last 6 months

Retirement Certification

Others (No work, No Business, etc.): Family as Proof of Rootedness:

For Solo parents:


› A copy of your birth certificate- PSA Authenticated




› A copy of your child/children's birth certificate- PSA Authenticated




› Solo parent ID




› Barangay Certification as Solo parent




› Notarized Affidavit of Solo Parent with Undertaking




› Money remittances to support your dependents

For those who are supporting or watching over the health/well-being of the family: 


› A copy of my parent's birth certificates- PSA Authenticated




› If parents are already Senior Citizens: a copy of their Senior Citizen ID and Barangay Certification as Senior Citizens




› If parents have sickness/ illness: Medical history of parents (diabetes, hypertension, etc.)

For Minors: 

Joint affidavit of both parents or legal guardians granting consent
Photocopies of the passports of both parents or legal guardians
Birth certificate of the minor. Must be recent, original, and issued by PSA.

DSWD Clearance

, if the minor is not traveling with either parent or legal guardian
Recent certificate of enrollment from the school
Letter authorizing the student's absence from school
Step-by-Step Guide on How to Apply for a Short-term Schengen Visa in the French Embassy in Manila
STEP 1: Find out what kind of visa you'll need. There's a lot of Visas which you can get for France depending on factors like your Purpose of Stay, Duration, etc. To be able to know which kind of visa you'll need, check out France Visas Website. This is the Official Visa Website for France. Proceed with this guide only when you need a Schengen Visit Visa when your primary purpose is Tourism or Visiting Family.