A trip to Lithuania could be the adventure you've always dreamed of! Despite the small size of this country, it has a variety of impressive places that will make you fall in love with Lithuania. 
Located far on the edge of Europe, you will be amazed by the country's rich and inviting nature. You will encounter the beautiful national parks, peaceful lakes, deep forests and cozy little towns that make this country worth seeing and exploring. From delicious and remarkable local cuisine to friendly Lithuanian people, this country has pretty much everything a traveler could wish for! 
An Overview of Schengen Visa for Short-term Stay in Lithuania
Lithuania is a part of the Schengen area i.e. a group of countries which carry out no checks at their common borders and which have brought their efforts to fulfill the right of free movement of persons to a successful end.
More information about the Schengen area can be found here. 
In order to enter Lithuania as a Philippine passport holder (and any other countries in the Schengen zone), you must obtain a Schengen Visa first. You can get a tourist visa (if touring the country is your primary purpose) or a visit visa (if your main objective is to visit a family, friend, or significant other).
With a Schengen Visa, you may come and stay to Lithuania for up to 90 days total starting from the date of entry to the date of exit. This 90-day stay may start and end anytime within the dates stipulated in the visa validity period (180 days).
Lithuania Schengen Visa Conditions for Philippine Citizens
If you are a Philippine passport holder and you are planning to apply for a Lithuanian Schengen visa, you must fulfill these conditions:
Lithuania is your main destination. It means that you will visit Lithuania only and have no plans of visiting any other neighboring Schengen country (sa Lithuania ka lang pupunta at mag-stay); or
You will stay the longest in Lithuania. You have plans of visiting other Schengen countries, but Lithuania is where you will be staying the longest. (Pupunta ka pa sa ibang Schengen countries, pero sa Lithuania ang pinaka-mahabang stay mo).
Example: You will stay in Lithuania for 14 days to visit a family member or a relative. After that, you will go to Belgium, France, and Germany for a 2-week side trip, before returning to the Philippines.
The main purpose of your travel is in Lithuania. You have plans of visiting other Schengen countries, but the focus of your travel is in Lithuania.
Lithuania is your port of entry. You have plans of visiting multiple Schengen countries for the same number of days, pero Lithuania ang iyong first point of entry.
Important Documents to Prepare
Austrian Embassy in Manila
Address: 8th floor, One Orion Building
11th Avenue corner 38th Street
Bonifacio Global City, Taguig City Metro Manila 1630 • E-mail: manila-ob@bmeia.gv.at
Contact Details: (+63/2) 88179191
When you apply for a Short-term Schengen Visa to Lithuania, all visa applications are lodged at the VFS Center in Manila or Cebu rather than at the Embassy. The application will then be forwarded to the Austrian Embassy in Manila for processing. All cases are considered individually to see if the conditions for granting a visa are fulfilled.
To be guided through, make sure to print this checklist in order to not miss out on the documents that you will need to collate prior to lodging your visa application.
To start with your application, below are the list of documents that are required to be submitted when applying for a Lithuanian Schengen Visa for the purpose of tourism or visiting family or friends in this Schengen area.
Note: Prepare two sets of each document—one original set and one photocopy.
2. Two current biometrical passport photos
Size 35 x 45 mm

White background

Not older than 6 months

Printed on high quality paper

Complying with ICAO guidelines (International Civil Aviation Organization)
3.  Original Passport and a Photocopy of it as well as the Bio Page– must be valid at least 3 months calculating from the date of intended departure from the Schengen area.
Must contain at least two blank visa pages, excluding the endorsements pages.
Not older than 10 years (extended passports are not accepted).
4. Travel Insurance – the coverage must be applied during the entire duration of the trip and must be valid for all Schengen countries. Coverage sum must be AT LEAST EUR 30,000 (Php 2.5 million or USD 50,000). I highly recommend Pioneer Insurance which you can avail yourself through me. Feel free to directly inquire through JASTravel on Facebook and I would be very glad to assist you. 
5. Proof of travel arrangements: Flight reservation – you have to present a copy of your roundtrip flights and it should be issued on your name with complete itinerary.. Just a tip, do not buy tickets before the visa is issued because the embassy will NOT take any responsibility for the costs you'll incur if your visa gets denied. 
We can assist you with a dummy ticket for your flight reservation requirement; get it here!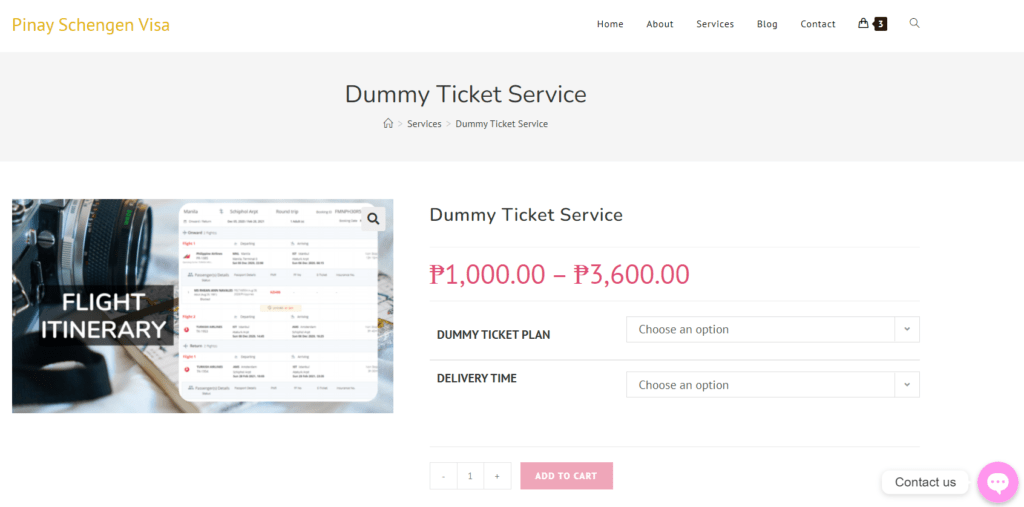 As for the detailed itinerary, it means that you should present detailed plans of the visit including dates and places you intend to visit in Lithuania (and Schengen) and means of transport. Destinations, tourist attractions, activities, and special events, if any. At this part, it's good practice to include an itinerary so that you can properly explain the purpose of your trip. We can help you plan your trip by availing our itinerary service.