HOW TO APPLY FOR A TOURIST or A VISIT VISA TO LUXEMBOURG
This fun-sized state is home to more than 50% of foreigners who came to work—and eventually settled—there, making the country a true melting pot of cultures. And for such a small country, Luxembourg sure offers so much!
Go hiking in the beautiful Luxembourgish countryside, sample the best European wines and beers, indulge in a gastronomic feast of local foods, marvel at the country's diverse culture, and visit some forests and nature parks—there are just heaps of things to do right there in the heart of Europe!
You might feel ready to explore Luxembourg, but first, you need to get the basics ready. And one of the vital things you will need is the Schengen Visa! Here are the things you need to know and prepare to make that Luxembourg trip a reality!
An Overview of Schengen Visa for Short-term Stay in Luxembourg
To enter Luxembourg (and any other countries in the Schengen zone), you must obtain a Schengen Visa first. You can get a tourist visa (if touring the country is your primary purpose) or a visit visa (if your main objective is to visit a family, friend, or significant other).
The Schengen Visa allows you to enter any Schengen states, which consists of most of the European Economic Area (26 states in total), plus several other adjacent countries (see the complete list of EU Schengen and non-EU Schengen states here).
With a Schengen Visa, you may come and stay to Luxembourg for up to 90 days total starting from the date of entry to the date of exit. This 90-day stay may start and end anytime within the dates stipulated in the visa validity period (180 days). For example, if the visa validity starts on June 1 and ends November 28, you may enter the Schengen zone (Luxembourg, in this case) starting June 1. 
You must exit the Schengen zone by November 28 or by the time you have used up your 90-day stay; otherwise, you could be flagged by authorities for overstaying! It could cost problems, one of which is the likelihood of getting declined of future Schengen visa.
How long you stay in Luxembourg will depend, of course, on how many days the embassy or consulate gives you (in consideration of how long you plan on staying based on your cover letter). If you get 90 days, it doesn't only mean you're lucky; it also means that (applying the validity period example above) you get to stay in Luxembourg (and maybe, depending on your itinerary, other parts of Schengen zone as well), anytime starting June 1 and stay for all 90 days that you were granted. However, you must exit by November 28, even if it means you arrived, for example, in September and had less than 60 days of the 90 days you were granted.
Not everyone gets the maximum 90 days stay in the Schengen Area. Others may only be granted 60 days, 30 days, or 20 days, for example. It varies depending on your purpose of travel indicated in your cover letter; it is also subject to the assessment of the embassy/consulate officer who is reviewing your application.
The short-stay visas can be for tourism or relative/family visit purposes, including visiting a partner. This should not be used for the purpose of finding a job in Luxembourg or anywhere in the Schengen Zone.
Luxembourg Schengen Visa Conditions for Philippine Citizens
If you are a Philippine passport holder and you are planning to apply for a Schengen visa, you must fulfill these conditions:
Luxembourg is your main destination. It means that you will visit Luxembourg only and have no plans of visiting any other neighboring Schengen country (sa Luxembourg ka lang pupunta at mag-stay); or
You will stay the longest in Luxembourg. You have plans of visiting other Schengen countries, but Luxembourg is where you will be staying the longest. (Pupunta ka pa sa ibang Schengen countries, pero sa Luxembourg ang pinaka-mahabang stay mo).
Example: You will stay in Luxembourg for 14 days to visit a family member. After that, you will come to Belgium, France, and Germany for a 2-week side trip, before returning to the Philippines.
The main purpose of your travel is in Luxembourg. You have plans of visiting other Schengen countries, but the focus of your travel is in Luxembourg.
Luxembourg is your port of entry. You have plans of visiting multiple Schengen countries for the same number of days, but Luxembourg is your first point of entry.
Important Documents to Prepare
There is no Luxembourg Embassy in the Philippines; the Embassy of Belgium in the Philippines is authorized to handle the visa applications on their behalf. VSF Global in Manila collects, verifies, and submits the documents to the Embassy of Belgium where the applications get processed. Hence, the Embassy of Belgium is representing Luxembourg for visa issuance.
After you've determined your primary reason for travel (and thus, your visa type) and the number of days you'll need to stay, it's time to prepare the documents:
Note: Prepare two sets of each document—one original set and one photocopy.
1. A duly filled out electronic Schengen Visa Application Form for Luxembourg here.
Click "not yet registered" and provide your new user registration details. They will send a confirmation to your email containing a PDF form of the application and a questionnaire form. Print and sign the forms; make sure all information is correct.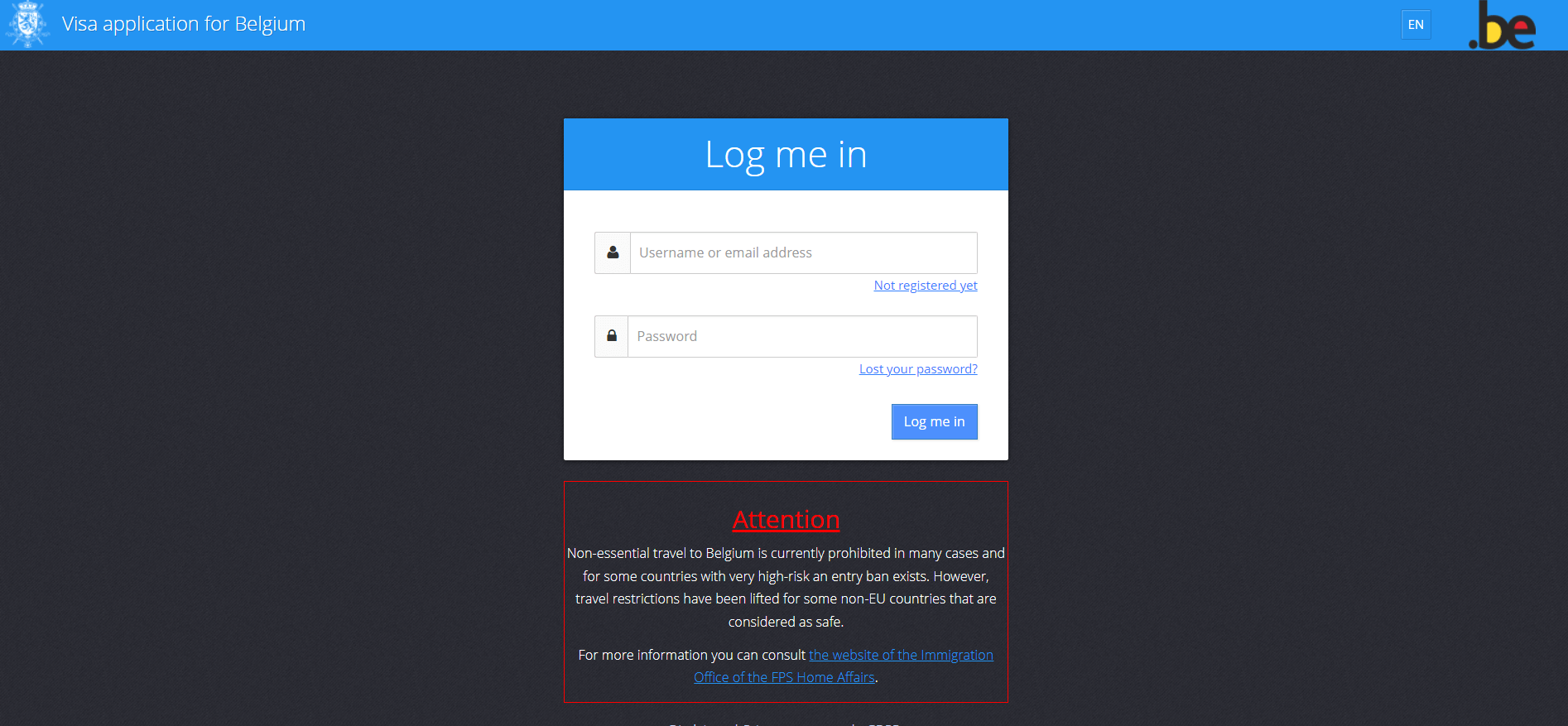 2. Two current biometrical passport photos (35-45 mm width)– have your passport photo taken. The embassy is very strict on their photo specifications. Fortunately, they have a page on their official website dedicated to explaining this. Bring at least two copies or more, just in case. One photo should be glued to the application form. The second photo will be returned to you.
Taken with nothing covering the face, without sunglasses or contact lenses, or a head covering unless worn for religious or medical reasons.

The subject should have their mouth closed (no grinning, frowning or raised eyebrows). 
After which, paste your photo on each of the electronic visa form that you completed online (1 original and 1 photocopy of the form).
3.  Original Passport and a Photocopy of it as well as the Bio Page– The embassy requires that your passport is valid for at least another three months on the date the visa application is submitted. It also must have two empty pages for them to stamp your passport. If you have renewed your passport, bring your old one/s with you. These are needed especially if you have previous overseas trips.
4. Travel plan indicating your destination (in this case, Luxembourg), route, proof of accommodation (hotel or apartment booking, etc.), and a round-trip flight reservation with dates and flight numbers showing the entry and exit from Luxembourg.
Important reminders:
You do not need to pay for the flight ticket right away

because you are only applying for a visa and have no guarantee that it will be approved. You're essentially just showing them that a flight itinerary from the Philippines to Luxembourg is available on your preferred travel date. We can assist you with a dummy ticket for your flight reservation requirement; get it here!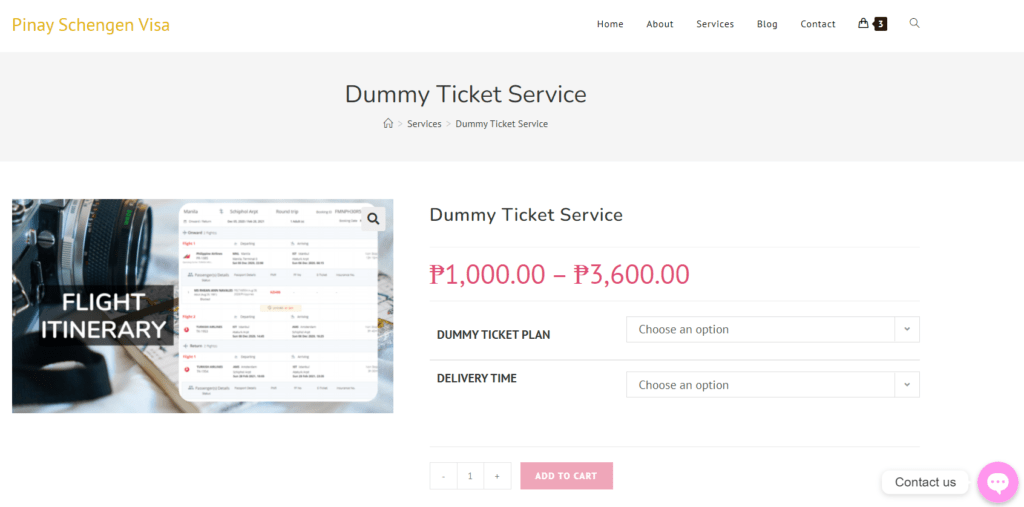 The embassy typically asks for a cover letter along with other documents

; the cover letter details the purpose of your journey to Luxembourg plus your complete itinerary indicating all of the places you are planning to visit while you're there. The cover letter is crucial to the success of your application; a well-thought-out and well-written cover letter gets you a higher chance of visa approval. Let us take care of your cover letter (and others such as sponsorship, invitation, and appeal), get our letter service here!
If applying for a tourist visa:

You will need a cover letter addressed to Embassy of Belgium (authorized to handle visa application on Luxembourg's behalf).

In the cover letter, explain your reason for visit, where you will stay (did you get a hotel accommodation? Are you staying over at someone's place?), how you will fund the trip (do you have enough in your savings to finance your travel?), and your day-to-day itinerary. Outline every specific activity you are planning to take—places to go, tours to join, people to meet/visit, etc.

Also, through this cover letter, submit an informal declaration explaining your intention to return to the Philippines before your visa expires. Make sure you sign the cover letter.

Explain and submit proofs for your reason to return:

Do you have a young child in the Philippines you need to go back for and take care of? Submit the child's birth certificate.

Do you have senior citizen parents who are counting on your return? Submit a copy of their senior citizen IDs.
Are you an employee or a student and must return for your job or schooling? Submit copies of employment or school documents.
We will discuss more about proof of strong ties later in this article.
As already stated above, you will also need to submit your flight reservation and proof of accommodation.
If applying for a visit visa:

You will need proof of relationship with your host, partner, or sponsor—how are you related to the person you are visiting? You may submit a copy of birth certificate, marriage certificate, written correspondence between you and your sponsor (screenshots of video calls and chats), and any other evidence of your relationship with your sponsor, such as photos together, as proof of relationship.

Do not forget the invitation letter from the host or your partner based in Luxembourg. In this letter, the host or your partner must indicate the exact address where the host lives, as well as the purpose and full duration of your visit to your host's country.

If you are visiting your immediate family member or a close relative, you have to provide a proof of the urgency of that visit. It could be a marriage celebration, birth of a child, serious health problem, or funeral.

Proof of strong ties or deep-rootedness is also extremely important. One of the most common reasons for visa denial is the lack of strong ties; make sure you provide a compelling reason to return to the Philippines.
5. Proof of vaccination (certificate/ yellow card), photocopy – List of accepted vaccines in Luxembourg:
BioNTech Pfizer / Comirnaty

Moderna / Spikevax

AstraZeneca / Vaxzevria

Janssen / Vaccine Janssen

Covishield (Serum Institute of India Pvt. Ltd (SII))

R-Covi (R-Pharm)

Covid-19 vaccine (recombinant) (FIOCRUZ)
Note: Luxembourg has a shortened vaccination validity period and only accepts vaccination certificate issued in the last nine months; you may need a booster shot if your vaccination certificate is older than nine months to update its validity. Learn more here.
6. Travel Insurance – the coverage must be applied during the entire duration of the trip in Luxembourg and must be valid for all Schengen countries. Coverage sum must be AT LEAST EUR 30,000 (Php 2.5 million or USD 50,000). I highly recommend Pioneer Insurance which you can avail yourself through me. Feel free to directly inquire through JASTravel on Facebook and I would be very glad to assist you. 
7. Proof of financial capacity to show that you (or your sponsor) can support your expenses for the whole duration of your travel.
For sponsored travel:

 Your host or sponsor declares that he or she will be solely responsible for all expenses incurred during your trip.

For those traveling without a sponsor:

 this means that you will cover all your expenses during the entire duration of your travel.


Bank statements

 – must show records of the past six months. A bank statement shows your transactions in your account at a specific period. It will show debits (withdrawals, payments, taxes, service fees) and credits (deposits, interest earned.) Bank Statements can also be seen online especially if you have a registered account. There is no signature for the manager or a bank officer.

Bank Certificate

 – it is a confirmation by the branch manager or a bank officer that you have an existing account in their bank. It shows the account number, the type, and other details such as the opening date of your account, your account balance as of the date of request, and your average daily balance. 

Other proof of income 

(supporting documents) – although it is not really required, you can submit invoices and pay slip equivalent to prove that you earn enough to support this trip financially. 
Important (for non-sponsored): Means of Subsistence for Luxembourg.
As the European Commission updates, Luxembourg does not stipulate any specific amount of the means of subsistence applying towards foreign nationals when applying for a Luxembourg Visa to the Luxembourg Embassy or Consulate.
If you maintain a bank account for a long time, better maintain it. Kahit na may sponsor ka, of course, plus points pa din sa visa application mo if idadagdag mo din bank statements mo, payslips from our employer, and other proof na financially capable ka din and most importantly, it proves deep rootedness as well.
Sponsorship Letter which should state the fact that he/ she is inviting you to come over, your relationship with each other, and that he/ she is willing to sponsor you during your trip. Of course, it needs to have documentary proof. 
Original Affidavit of Support, legalized and notarized by the municipality in Luxembourg where the sponsor's address is registered. 
The sponsor's copies of: passport including the biodata page and travel history (passport stamps) and ID Card or Resident ID card
Recent proof of income of the sponsor (3 last months' salary slips, etc.)
Proof of relationship with the sponsor (pictures together, Birth or Marriage certificate, and screenshot of chat conversations)
8. Proof of Civil Status – Birth Certificate, Marriage Certificate, Death Certificate of the spouse, etc. These documents must be issued on security paper (SECPA) by the Philippine Statistics Authority, see http://www.psaserbilis.com.ph. 
Note: The birth certificate does not need to be authenticated by the Philippine Department of Foreign Affairs.
9. Evidence of your rootedness in the Philippines – Evidence of deep-rootedness a.k.a. strong family and social ties to your home country, is one of the most critical requirements when applying for a Schengen Visa. It is what the Consul will look for in your visa application. So how do you prove that you are firmly established in the Philippines and that you will go back to your home country?
You need to convince them that you will return to the Philippines. Insufficient evidence of deep-rootedness to your home country is also one of the chief reasons for visa denial.
For Employees: 




Employment or Work contract and bank account statements or payslips showing the transfer of your last six-monthly salaries 
Certificate of Employment which should include the employer's full name, complete address, telephone number with area code, details regarding the position, income, and employment duration
Approved letter of approved leave signed by your employer (Leave of Absence letter)
Optional: Signed No Objection Certificate which states that your employer has no objection for you to travel to Luxembourg and that they have approved your leave request
Most recent Income Tax Return 2316 (ITR) 
Optional Supporting Documents:
› Government Mandated Contributions – SSS, Pag-ibig, Philhealth Contributions
› If with existing loan – SSS Loan or Pag-ibig Salary loan

For Self-Employed:




DTI Business Name Registration Certificate
Barangay Business Clearance
Mayor's Business Permit from your Municipality where the business address has been registered
Business activity of your company for the last 6 months – invoices and bank transactions
Most recent Income Tax Return 2316 (ITR)

For Retirees: 




Pension statement for the last 6 months
Retirement Certification

Others (No work, No Business, etc.): Family as Proof of Rootedness:




For Solo parents:
› A copy of your birth certificate- PSA Authenticated
› A copy of your child/children's birth certificate- PSA Authenticated
› Solo parent ID
› Barangay Certification as Solo parent
› Notarized Affidavit of Solo Parent with Undertaking
› Money remittances to support your dependents
For those who are supporting or watching over the health/well-being of the family:
› A copy of my parent's birth certificates- PSA Authenticated
› If parents are already Senior Citizens: a copy of their Senior Citizen ID and Barangay Certification as Senior Citizens
› If parents have sickness/ illness: Medical history of parents (diabetes, hypertension, etc.)
For Minors




Affidavit of Support by parents or Legal Guardian with their proof of means

Proof of Enrollment and certificate of leave of absence
Helpful tips: Additional document requirements for a minor: https://youtu.be/aVUq5nbmQig
Step-by-Step Guide on How to Apply for a Schengen Visa to Luxembourg
STEP 1: Determine the type of Luxembourg Schengen visa you need to apply for and have a look at the checklist of requirements to gather all the documents that you need to submit. Each application must comply with the guidelines applicable for your visa category. 
STEP 2: After gathering your documents, begin your application and schedule an appointment with VFS Global (Belgium).

STEP 3: On the day of your appointment, bring all your documents (double-check to be sure everything is complete and properly filled out) and put them in a brown envelope. Have a photocopy of each document ready as well. Write your complete name and contact number in bold letters on the upper left side of the envelope. Make sure you arrive 15 minutes before your scheduled appointment.
You can hand in your application and the required documents here:
Ground Floor, Ecoplaza Bldg.,
Don Chino Roces Ave., Makati City, Metro Manila
STEP 4: Pay the visa service fee (and courier fee); they will take your requirements and passport as well as your biometric data (photograph and fingerprints).
STEP 5: After that, your application is complete! You can track your application status here.
STEP 6: Wait for the result and then pick up your passport—the visa center will let you know when your passport is ready for collection. You also have the option of paying an additional fee for the courier to have your passport mailed to you.
If your visa is approved, you will receive a sticker visa on one of your passport's pages. Congratulations! If your visa is denied, a white paper enclosed in your passport will specify the reason for denial. You may either appeal or reapply, in this case.
Visa processing usually takes 15 days, but it can take less time in some cases. There were also times when it could take up to a month or more, especially if they requested additional documentation and verification. Consider this when submitting your application; to be safe, apply for the visa at least one month before your intended travel date; plan ahead of time.
Validity of Visa :

Short-stay Schengen visas allow people to stay in the Schengen area for up to 90

days every six-month period

Processing time:

The average processing time is 2 weeks, but due to the Covid-19 pandemic, where visa staff work on a skeletal schedule, it may take between 2 to 4 weeks.

Where to lodge your application:
VFS Manila
Ground Floor, Eco- Plaza Bldg., 2305 Don Chino Roces Ave. Ext., Makati, Metro Manila
VFS Cebu 
Unit 503, 5th Floor, Keppel Center, Samar Loop cor. Cardinal Rosales Avenue, Cebu Business Park, Cebu City 6000
Embassy's Information:




Embassy of Belgium in the Philippines

Address: Multinational Bancorporation Center,  9th floor, 6805 Ayala Avenue, Makati City 1226 – NCR, Philippines

Contact Number: +632 88451869 – 73

E-mail address: Manila.Visa@diplobel.fed.be
Common Reasons for Schengen Visa Rejection
Here are the common reasons a Schengen Visa application gets denied:
No clear travel purpose—a detailed cover letter is a must!
Lack of strong ties—reevaluate your application and prove why you must return to your home country!
Insufficient travel insurance coverage—make sure you get the right policy!
No proof of financial means—convince them that you can afford your trip! Provide bank or credit card statements, VUL, investment portfolio, etc.
Passport does not have 2 free pages—where will they attach the visa if your passport pages are already full? You should get a new passport before applying for a visa if there are no more available pages on your old one!
No proof of accommodation—you need to prove them that you have a place to stay in the Schengen Area.
So, just a recap and a reminder, please don't forget these TIPS: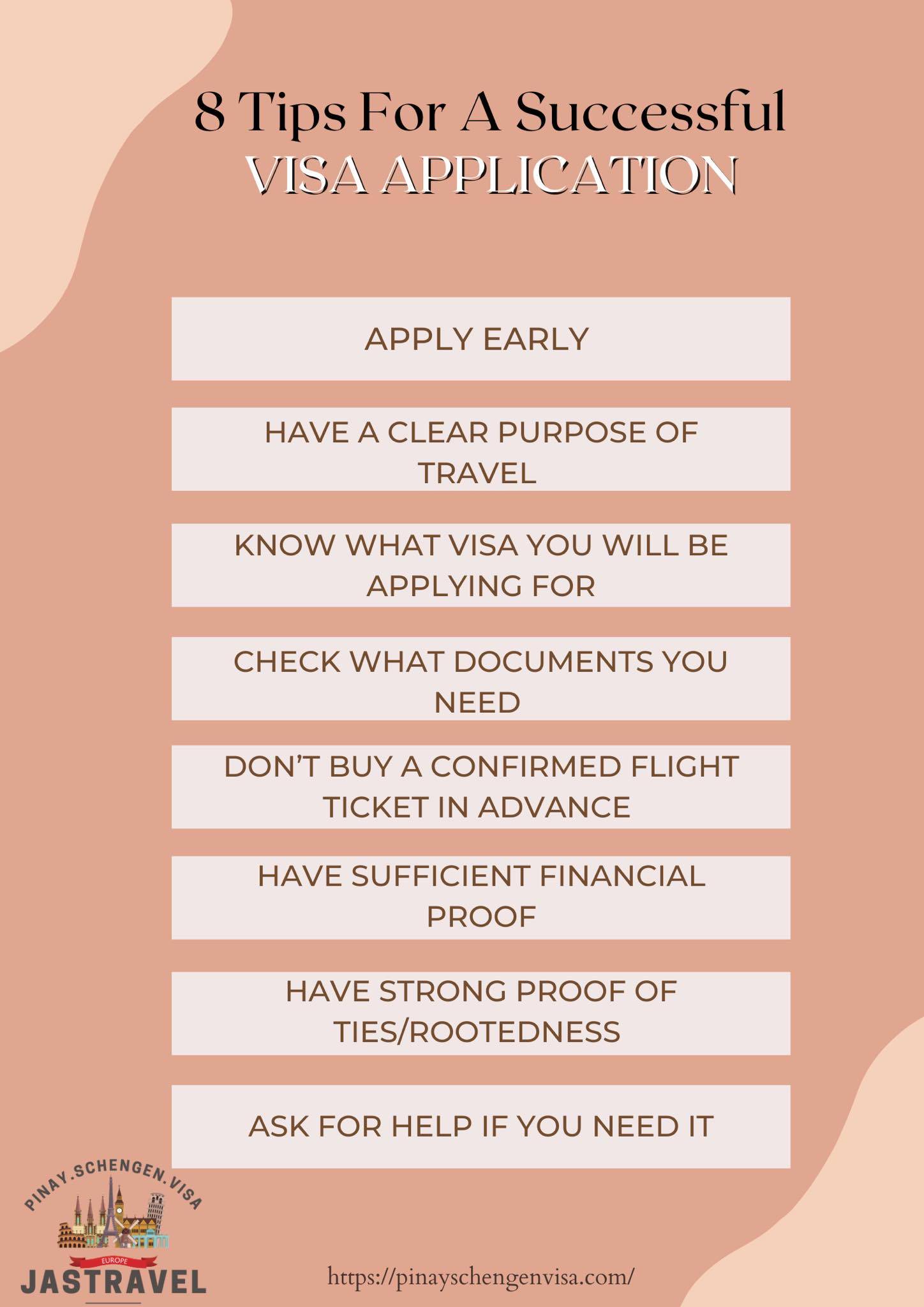 If you ever need help, you can avail my visa application bundle, and I will be glad to help you through the process!
Let Us Be Your Partner in Your Schengen Visa Journey
Applying for a Schengen Visa can be overwhelming, with all the paperwork involved and confusing information from different sources. We understand that—we've been there and have done that!
But through the years, we gained experience and knowledge on the ins and outs of the Schengen Visa application. We've helped countless satisfied clients; we would like to invite you to be one of them!
With our Schengen Visa services personalized to your unique needs and circumstances, we will make your visa application less stressful and laborious and more promising. Contact us to schedule a consultation or for other inquiries.