HOW TO APPLY FOR A VISIT or A TOURIST VISA TO ESTONIA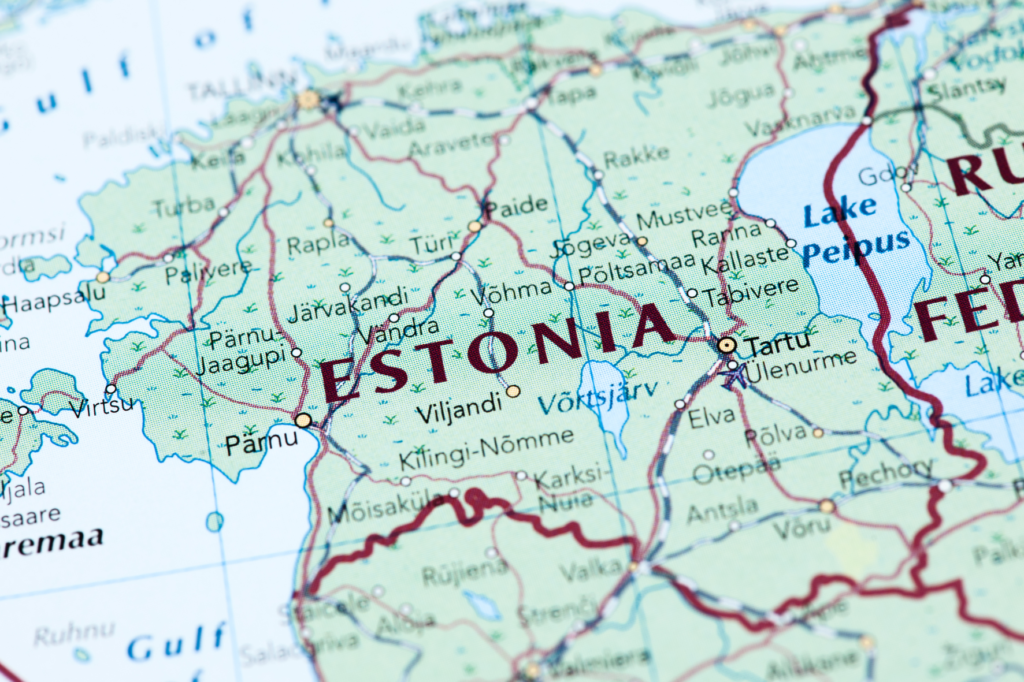 Estonia, a stunning jewel nestled in Northern Europe, has been captivating the hearts of many travelers with its rich history, breathtaking landscapes, and warm-hearted people. A Northern European gem known for its digital advancements, medieval architecture, and enchanting forests, has become an attractive destination for Filipino travelers seeking a mix of tradition and innovation. 
If you hold a Philippine passport and are dreaming of setting foot in this Baltic beauty, this blog will guide you through obtaining a short-term Schengen visa to Estonia.
To turn your dream into reality, you'll need to secure a visit or tourist visa. In this comprehensive guide, we'll walk you through the step-by-step process of applying for a visit or tourist visa to Estonia.
An Overview of Schengen Visa for Short-term Stay in Estonia
Estonia is a member of the Schengen Agreement, which means a Schengen visa allows you to travel to Estonia and all other Schengen member countries for a short stay, usually up to 90 days within a 180-day period. This visa is ideal for tourism, business trips, or transits.
More information about the Schengen area can be found here. 
In order to enter Estonia as a Philippine passport holder (and any other countries in the Schengen zone), you must obtain a Schengen Visa first. You can get a tourist visa (if touring the country is your primary purpose) or a visit visa (if your main objective is to visit a family, friend, or significant other).
With a Schengen Visa, you may come and stay to Estonia for up to 90 days total starting from the date of entry to the date of exit. This 90-day stay may start and end anytime within the dates stipulated in the visa validity period (180 days).
Estonia Visa Conditions for Philippine Citizens
Philippine passport holders require a Schengen visa to visit Estonia for short-term stays. While the application process is fairly standardized across the Schengen area, there might be specific requirements or conditions set by the Estonian embassy for Filipinos.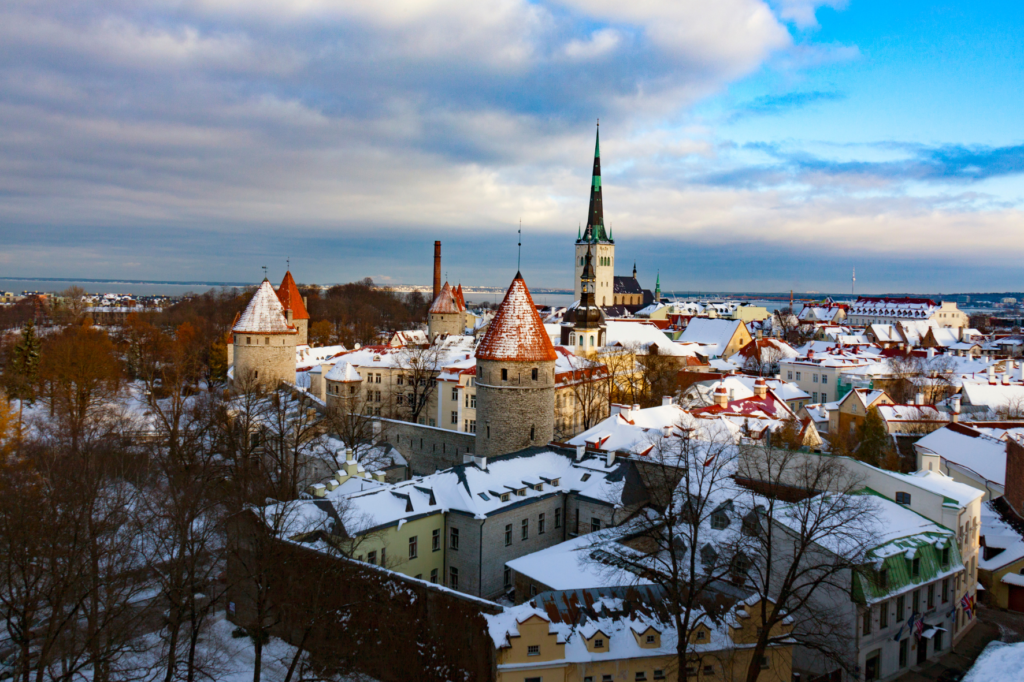 For Philippine passport holders aspiring to get an Estonian Schengen visa, the following prerequisites should be met:
Estonia is the sole destination on your itinerary. This implies that your entire stay will be in Estonia without plans to visit any other adjacent Schengen nations.
Among all the Schengen countries you intend to visit, Estonia will be your longest stay.

For instance, you might spend 14 days in Estonia visiting family or friends. Subsequently, you could travel to Belgium, France, and Germany on a two-week tour before heading back to the Philippines.

The primary objective of your journey revolves around Estonia. Even if there are other Schengen destinations on your list, the central purpose of your trip is rooted in Estonia.

Estonia is your primary entry point into the Schengen zone. If you're spending an equal amount of time in various Schengen nations, your initial entry will be through Estonia.
Important Documents to Prepare
If you are applying from the Philippines, the Danish Embassy in the Philippines is authorized by Estonia to process Short-term (Type C) Visa applications. For these type of visa applications, all documents should be lodged either of these VFS Application Centers:
When you apply for a short-term Schengen visa, the application will be forwarded to the Estonian Honorary Consulate General in Manila, Philippines for processing. All cases are considered individually to see if the conditions for granting a visa are fulfilled. 
Prepare two sets of each document—one original set and one photocopy.
1. A duly filled out and signed Schengen Visa Application Form. You may download the form by signing up here.
Form must be filled out on-line, printed out and signed personally by the applicant (for minors, the application shall be signed personally by at least one of the parents or a legal guardian while submitting the application).
All entries should be properly filled out – no blanks.
2. Two current biometrical passport photos
Size 35 x 45 mm
White background
Not older than 6 months
Printed on high quality paper
Complying with ICAO guidelines (International Civil Aviation Organization)
3.  Original Passport and a Photocopy of it as well as the Bio Page– must be valid at least 3 months calculating from the date of intended departure from the Schengen area.
Must contain at least two blank visa pages, excluding the endorsements pages.
Not older than 10 years (extended passports are not accepted).
4. Travel Insurance – Obtain travel insurance with coverage spanning the entire duration of your trip and valid for all Schengen countries. The coverage amount should be a minimum of EUR 30,000 (equivalent to Php 2.5 million or USD 50,000). We recommend Pioneer Insurance, which you can acquire through us. Feel free to inquire directly through our Facebook page, JASTravel, and we'll be delighted to assist you. 
5. Documents indicating the purpose of the journey and countries to be visited – Include documents that elucidate the purpose of your journey and the countries you intend to visit. Consider attaching a cover letter to this itinerary document to provide a comprehensive explanation of your trip's purpose. We offer itinerary service to help you plan your trip effectively. 
6. Provide a copy of your roundtrip flight reservation. Please refrain from purchasing flight tickets until your visa is approved since the Estonian Embassy assumes no responsibility for any incurred costs if your visa application is denied. We can assist you in obtaining a dummy ticket for your flight reservation requirement; you can acquire it. get it here!
7. Proof of Accomodation, copy(ies). These are confirmed hotel reservation(s) only for the entire duration of your stay in the Schengen countries containing the name and contact details of the hotel(s) as well as the reservation number.
8. Demonstrate your financial capacity to cover your expenses throughout your trip. Depending on your situation:
If traveling without a sponsor, you must be prepared to cover all your expenses during the trip. Provide bank statements for the past six months, which should show your account transactions during that period.
Include a bank certificate issued by the branch manager or a bank officer, confirming your account's existence. This certificate should contain your account number, type, opening date, account balance at the date of the request, and average daily balance.
While not mandatory, you can also submit other supporting documents like invoices and pay slips to prove your financial capability.
9. Evidence of your rootedness in the Philippines – Evidence of deep-rootedness a.k.a. strong family and social ties to your home country, is one of the most critical requirements when applying for a Schengen Visa. It is what the Consul will look for in your visa application. So how do you prove that you are firmly established in the Philippines and that you will go back to your home country? This can either be: Confirmation of employment / private business / studies / pension
You need to convince them that you will return to the Philippines. Insufficient evidence of deep-rootedness to your home country is also one of the chief reasons for visa denial.
For company employees – original letter from employer confirming the position in the company, date of employment, salary for the last 6 months and period of holidays granted (certificate of leave of absence). The letter must include the name and position of the person who signed the certificate, registration and contact details of the company.

For private business – confirmation of business registration, license, income tax return, business financial statement;

For students – proof of enrolment, certificate from the school with confirmation of leave of absence and the valid student's ID card. You may be also requested to submit a student's record-book;


> Recent certificate of enrollment from the school
> Letter authorizing the student's absence from school

For pensioners – pension certificate indicating the amount of pension;

For unemployed – a written and signed explanation on the applicant's labour situation;

For Solo parents:

› A copy of your birth certificate- PSA Authenticated
› A copy of your child/children's birth certificate- PSA Authenticated
› Solo parent ID
› Barangay Certification as Solo parent
› Notarized Affidavit of Solo Parent with Undertaking
› Money remittances to support your dependents

For those who are supporting or watching over the health/well-being of the family:




› A copy of my parent's birth certificates- PSA Authenticated




› If parents are already Senior Citizens: a copy of their Senior Citizen ID and Barangay Certification as Senior Citizens




› If parents have sickness/ illness: Medical history of parents (diabetes, hypertension, etc.)

Documents confirming ownership of real estate property in the Philippines (if applicable)
> Land titles


> Car registration certificates




> Deeds of Sale

For Minors




> Joint affidavit of both parents or legal guardians granting consent




> Photocopies of the passports of both parents or legal guardians




> Birth certificate of the minor. Must be recent, original, and issued by PSA.


> DSWD Clearance, if the minor is not traveling with either parent or legal guardian
Step-by-Step Guide on How to Apply for a Schengen Visa to Estonia
If you are currently living in the Philippines and you are a citizen of this country, then you will need to apply for a visa to be able to visit Estonia.
The Estonian Honorary Consulate in Manila, Philippines processes visa applications, but you will submit your application to VFS Global-Denmark Application Centers either in Manila or Cebu.
You can apply up to 6 months before you intend to travel to Estonia, but no more than 15 days before. This is because it takes 15 days for a decision to be made. If you apply less than 15 days before, there may not be enough time for your application to be processed.
Step 1: Determine the type of Estonian Schengen visa you need to apply for and have a look at the checklist of requirements to gather all the documents that you need to submit.
The first step is to determine which visa type you need, and check whether you're eligible to apply for it. You'll also need to know the documents that you'll have to submit along with your application, how long the application might take and fees you'll have to pay.
Each application must comply with the guidelines applicable for your visa category.
Step 2: 

Begin your Visa Application. Get started with you visa application.
Once you have identified the visa type please fill the online application form.
For Short term Visa's please fill the online application form on ApplyVisa.
Step 3:
Schedule your appointment online with VFS Global
When it comes to the Estonian Embassy, they do visa applications via their external service provider, VFS Global (Denmark Visa Section). You can just walk into VFS without an appointment — but only from 7:00AM to 9:00AM from Monday to Friday. It's from 9:00AM to 2:00PM on Mondays to Fridays that booked appointments are accommodated. There are two locations:
VFS Visa Application Center – Manila
Ground Flr., Ecoplaza Building
2305 Don Chino Roces Ave, Extension,
Makati, Metro Manila
VFS Visa Application Center – Cebu
Unit 503, 5th Floor, Keppel Center
Samar Loop cor. Cardinal Rosales Avenue
Cebu Business Park, Cebu City
Once you have filled your visa form, you need to book an appointment to have your fingerprints and photo taken at a Visa Application Centre. This is known as 'biometric information' . 
Once you've booked your appointment, you'll receive an appointment confirmation email along with the letter of appointment.
Step 4:
Pay the Visa Fee.
This must be paid in cash and it helps to prepare the exact amount in Philippine peso only. Once paid, they will give you a payment receipt (that has your application reference number and details) which you should keep. If you lose this receipt, VFS will not release your visa and passport; they will only release it after you give them a notarized affidavit of loss.
If you download the form to print and bring to the Visa Application Centre, payment can be made at the time of your appointment.
Step 5:
Wait for the results of your Estonian Schengen Visa application
You will receive an email update when your decision has been returned to the Visa Application Centre. If you can't access email easily, or would like more detailed tracking information, you may also be able to get updates by SMS sent directly to your phone. Check whether this service is available at the Visa Application Centre you are visiting.
You will receive an email update when your decision has been returned to the Visa Application Centre. If you can't access email easily, or would like more detailed tracking information, you may also be able to get updates by SMS sent directly to your phone. Check whether this service is available at the Visa Application Centre you are visiting.
You can also track your visa application status online.  Use the Reference Number present on the invoice/receipt issued by the Visa Application Centre along with your last name to access this service.
Some other things to remember:
If you cannot come personally to pick up your documents, you may send a representative in your behalf with your authorization letter, photocopy of your ID, payment receipt, and a valid ID with picture of your representative.

You may also opt to have your documents sent back to you through courier for an extra fee to be settled with VFS upon submission of your application. However, sending passports via courier is at the applicant's own risk. The Estonian Embassy assumes no resposibility for this. (Delivery will be done in 1-3 days within Metro Manila and 2-5 days if the address is in the province. Should the mailing address be outside a serviceable area, you may have to pick up your passport in the nearest courier branch.)

Naturally, the Estonian Honorary Consulate General in Manila, Philippines will also NOT assume any responsibility if your visa application be rejected. And if it does get rejected, you will be given an information sheet that shows the procedures you can take in order to ask for an appeal.
If you are part of a family or group, you'll have to book individual appointments for each member of the family or group.
With your Schengen tourist visa in hand, you're ready to explore Estonia's beautiful landscapes, historical sites, and vibrant culture. From the medieval charm of Tallinn's Old Town to the natural beauty of Lahemaa National Park, Estonia has a lot to offer.
Please note that visa requirements and procedures can change over time. It's essential to visit the official website of the Estonian embassy or consulate in the Philippines for the most up-to-date information on visa requirements and application procedures before you start your application process.
Traveling to Estonia from the Philippines can be a thrilling experience, and with proper preparation and the right visa, you'll be on your way to making unforgettable memories in this enchanting European destination.
Validity of Visa :

Short-stay Schengen visas allow people to stay in the Schengen area for up to 90

days every six-month period

Processing time:Applications shall be decided on within 5 to 10 working days after the date of lodging.
Where to lodge your application:
VFS Manila
Ground Floor, Eco- Plaza Bldg., 2305 Don Chino Roces Ave. Ext., Makati, Metro Manila
VFS Cebu 
Unit 503, 5th Floor, Keppel Center, Samar Loop cor. Cardinal Rosales Avenue, Cebu Business Park, Cebu City 6000
Common Reasons for Schengen Visa Rejection
Here are the common reasons a Schengen Visa application gets denied:
No clear travel purpose—a detailed cover letter is a must!
Lack of strong ties—reevaluate your application and prove why you must return to your home country!
Insufficient travel insurance coverage—make sure you get the right policy!
No proof of financial means—convince them that you can afford your trip! Provide bank or credit card statements, VUL, investment portfolio, etc.
Passport does not have 2 free pages—where will they attach the visa if your passport pages are already full? You should get a new passport before applying for a visa if there are no more available pages on your old one!
No proof of accommodation—you need to prove them that you have a place to stay in the Schengen Area.
So, just a recap and a reminder, please don't forget these TIPS: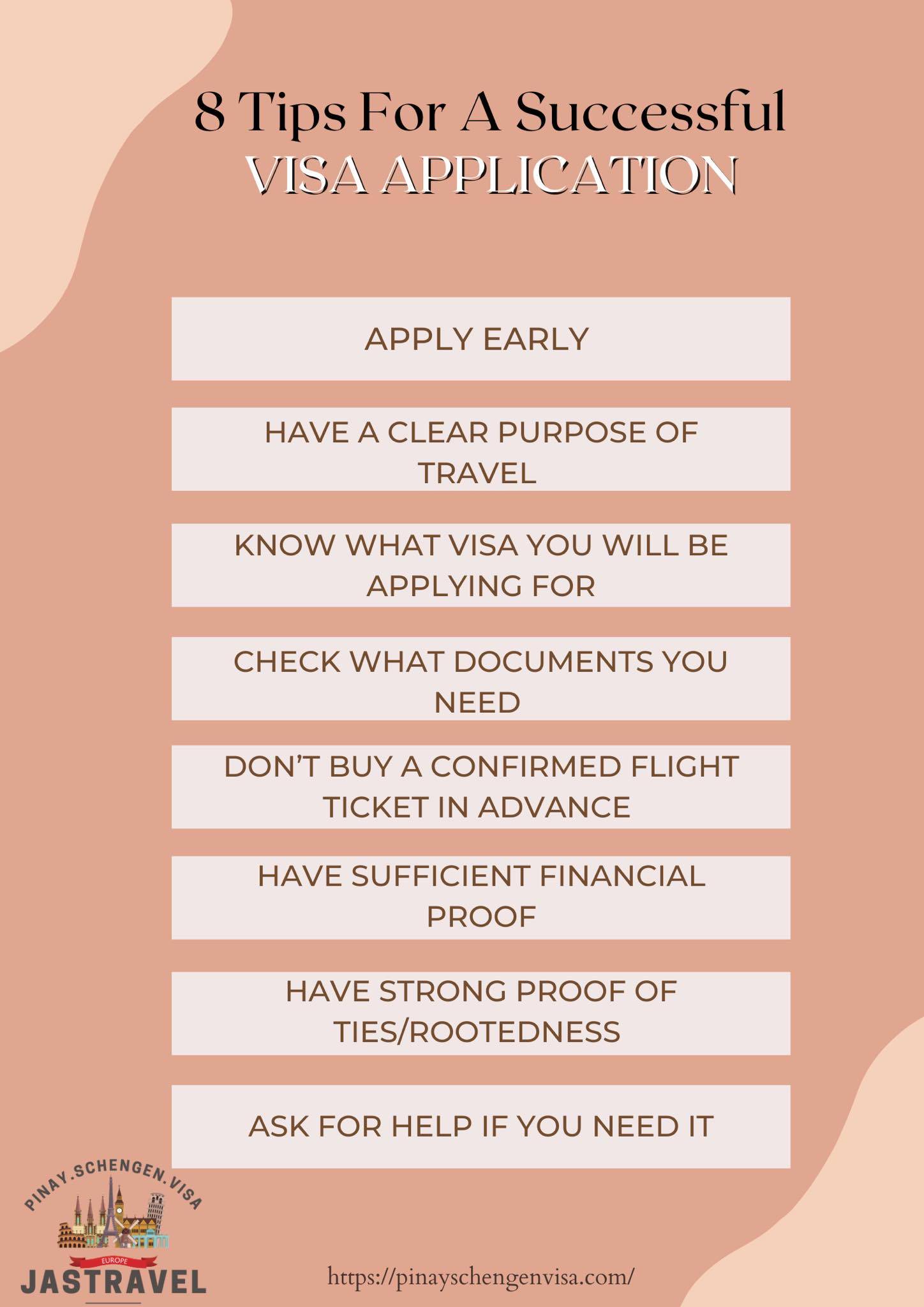 If you ever need help, you can avail my visa application bundle, and I will be glad to help you through the process!
Let Us Be Your Partner in Your Schengen Visa Journey
Applying for a Schengen Visa can be overwhelming, with all the paperwork involved and confusing information from different sources. We understand that—we've been there and have done that!
But through the years, we gained experience and knowledge on the ins and outs of the Schengen Visa application. We've helped countless satisfied clients; we would like to invite you to be one of them!
With our Schengen Visa services personalized to your unique needs and circumstances, we will make your visa application less stressful and laborious, and more promising. Contact us to schedule a consultation or for other inquiries.